Kathleen Shea Selected to the Pace Center for Girls Young Professionals Board
Kathleen Shea Selected to the Pace Center for Girls Young Professionals Board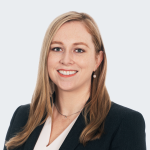 Pace Center for Girls has selected Orlando attorney Kathleen Shea to serve on its Central Florida Young Professionals Board. Pace Center for Girls provides girls and young women an opportunity for a better future through education, counseling, training and advocacy.
Shea says that she became interested in serving Pace through her work with juveniles during her time at the Public Defender's Office. She saw first hand the daily hardships these young men and women face and how their environment can affect the trajectory of their lives.
"When I left the PD's office I decided to get involved with the Guardian ad Litem program and specifically asked for a teenager because I enjoy working with them. I like Pace because it focuses on at-risk girls ages 11-18 in the community," Shea said.
"As a part of the Young Professionals Board, I look forward to raising awareness in the community regarding some of the issues these kids face – homelessness, addiction, sexual abuse, etc," she continued. "I hope to be a positive influence in both the organization and the lives of the girls it serves."