Still Making Strides–Even During a Pandemic
Still Making Strides–Even During a Pandemic
Tampa Attorney Rebecca Arends led a Making Strides fundraising walk for the American Cancer Society (ACS) in a park near her home on Saturday, October 17.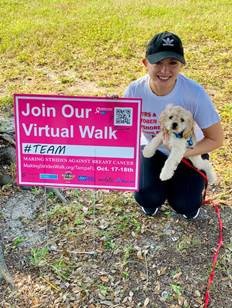 "We had a total of 12 people who did the walk , 14 if you count the dogs," said Rebecca. Brody, Rebecca's new three-month-old Cocker Spaniel served as team mascot.
Earlier this year–long before the pandemic hit–Rebecca was tapped to join the Income Board with ACS, which oversees fundraising for Making Strides and Real Men Wear Pink fundraisers. She also rejoined the Associate Board of Ambassadors (ABOA) with ACS, which is the young professionals board and has been serving as a liaison between the Income board and ABOA.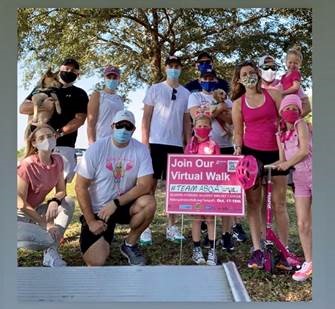 "Most of the people who joined in the walk (which was held at the park and virtually) are members of ABOA and are young professionals in the community. While our groups for these types of walks are much smaller than normal due to the pandemic, it doesn't dampen our spirit or importance of our work," said Rebecca. "I'm really proud to play a role helping the American Cancer Society fight cancer," she added.
To learn more about Making Strides, or to make a general donation, visit Making Strides American Cancer Society