The Impact of Black Bar Associations: Fred G. Minnis Bar Association
The Impact of Black Bar Associations: Fred G. Minnis Bar Association
In honor of Black History Month, RumbergerKirk is featuring the importance of Black Bar Associations in our communities. Many of these organizations honor prominent Black attorneys who played pivotal roles in the Civil Rights Movement and paved the way for today's Black attorneys. Each week, we will highlight a different association and invite RumbergerKirk attorneys to share their experiences as members of these organizations.
Fred G. Minnis Bar Association
Fred G. Minnis began practicing law in St. Petersburg in 1956 and was the first full-time Black attorney in Pinellas County. As a pioneering attorney and community advocate, he provided many opportunities for mentoring and encouraging others to follow in his footsteps.
Following in the steps of Fred Minnis, the Fred G. Minnis Bar Association (Minnis) works to protect the civil rights of the historically disadvantaged in the community; improve the administration of justice; strengthen the honor and integrity of the legal profession; mentor minority lawyers; and promote scholarship of minority and disadvantaged youth.
Founded in 2000, the voluntary bar association provides support to minority attorneys in Pinellas County, as well as promotes justice and education in the surrounding communities, just as Fred G. Minnis did for so many years. Visit the Minnis website to learn more about Fred G. Minnis and the bar association named in his honor.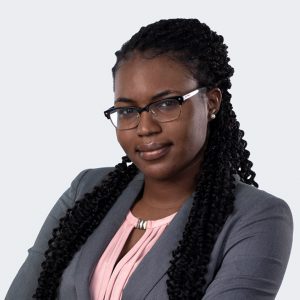 Tampa attorney Assita Toure joined Minnis in 2016 as a student member during her first year of law school at Stetson University College of Law.
"During law school, Minnis had a mentorship program where they paired Stetson law students with local African American attorneys. I initially joined to receive a mentor but after seeing how involved they were in the local community, it inspired me to sign up to be an executive board member as well. As a member of Minnis, I was not only able to make connections with local African American attorneys but I was also able to participate in their ongoing efforts to provide legal support and resources to low income and disenfranchised communities. Minnis has played an instrumental part of my career and has helped me navigate the challenges associated with being a first generation African American attorney," said Assita.
Coming full circle, Assita now serves as the director of mentoring for Minnis.
In addition to mentoring students, each year Minnis provides scholarships to deserving youth, high school and law school students at its annual scholarship banquet. In 2019, Assita was the recipient of the Fred G. Minnis Bar Scholarship. In addition, the association hosts events providing free legal advice to the community and provides encouragement and support for law students who are prepping for the bar exam.
"I enjoy being able to participate in giving back to the local community," shared Assita. "I also enjoy encouraging aspiring minority high school students that through hard work and perseverance they too can achieve their goal of becoming an attorney," she added.
Encouraging today's Black youth to pursue a career in law is one way voluntary bar associations like Minnis can help increase the number of Black lawyers in the future.
According to the ABA Journal's 2022 National Lawyer Population Survey, only 5 percent of attorneys nationwide are African American and that number has not increased since the last survey in 2012. The survey reported that 81 percent of active lawyers are white, a decrease from 88 percent in 2012. While the percentage of white lawyers declined, Asian and Hispanic attorneys are on the rise: Five percent are Asian, an increase from two percent in 2012 and six percent are Hispanic, an increase from three percent in 2012.
"African American Bar Associations such as Minnis are important because they help to provide support and guidance to African American attorneys as we journey through a profession where we are underrepresented," said Assita.