The Impact of Black Bar Associations: The George Edgecomb Bar Association
The Impact of Black Bar Associations: The George Edgecomb Bar Association
In honor of Black History Month, RumbergerKirk is featuring the importance of Black Bar Associations in our communities. Many of these organizations honor prominent Black attorneys who played pivotal roles in the Civil Rights Movement and paved the way for today's Black attorneys. Each week, we will highlight a different association and invite RumbergerKirk attorneys to share their experiences as members of these organizations.
George Edgecomb Bar Association
The George Edgecomb Bar Association (GEBA) is Tampa's largest predominately African-American voluntary bar association. Founded in 1982, in memory of the late Honorable George E. Edgecomb, GEBA is dedicated to the promotion and recognition of African Americans within the legal profession and the judiciary. Visit GEBA's website to learn more about the association's rich history and George Edgecomb.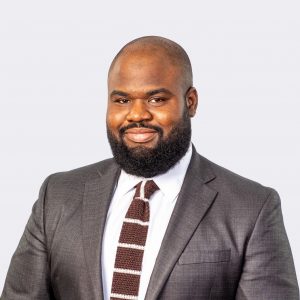 Tampa attorney Reed Blair has been an active member of GEBA since 2017 and is serving on the Executive Board as the Press Secretary this year. He shared how he became involved in the organization and how it serves the community.
"George Edgecomb is essentially the standard of excellence in Tampa's Black Legal Community, hence the naming of our county courthouse and of the George Edgecomb Bar Association. I was a recipient of GEBA's bar prep scholarship as a 3L at Stetson Law in 2018. As a Black Attorney, joining the predominant Black Bar association in Tampa was an easy choice," explained Reed.
"George Edgecomb and I are also members of the same Fraternity, Omega Psi Phi Fraternity Inc. founded in 1911. Omega Psi Phi Fraternity is an organization founded on the promotion of Black scholars as well as community outreach, with chapters throughout the world. I currently am a member of Tampa's Graduate Chapter, who have carved out a definitive role in the community through philanthropy and programming to uplift marginalized peoples in Tampa and the surrounding area," he added. 
Reed shared that GEBA serves the community in a number of ways:
Annual scholarships to high school and law students from across the state of Florida
Offers free seminars to the community on legal issues
Hosts CLE's for Lawyers to progress in the profession
Community outreach via local organizations, volunteering with church's, Bar associations, Greek organizations, Colleges/Universities, government agencies etc.
In addition to providing Reed with a scholarship early in his career to assist him with his Bar preparations, Reed said that through GEBA he has met top litigators, practitioners, judges and business men and women who have helped him learn and progress in his practice.
"GEBA has also introduced me to new way to engage the Tampa community that I love," he said.
GEBA is teaming up with the Fred G Minnis Bar Association for a Black History Month Reception on Tuesday, February 28. Learn more about the event and register.