Orange County Bar Association Professionalism Committee CLE
A Case Study of Florida Bar v. Scott Kallins, and the Disciplinary Process from Complaint to Reinstatement
A Case Study of Florida Bar v. Scott Kallins, and the Disciplinary Process from Complaint to Reinstatement
RumbergerKirk Partner Patrick Delaney, committee chair of the Orange County Bar Association (OCBA) Professionalism Committee, moderated a panel discussion and case study presentation CLE for OCBA on April 4, 2023. Panelists for the discussion included: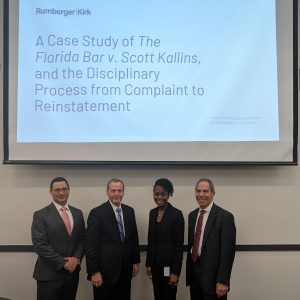 Retired Ninth Circuit Judge Alan Apte who, throughout his 27 years on and off the bench, has taught and mentored his fellow local and statewide Circuit and County Judges and lawyers on a variety of legal topics including ethics. He is presently on the prestigious Florida Bar Committees – Rules of Judicial Administration Committee and Criminal Procedure Rules Committee.
Keshara Cowans, staff attorney for the Orange County Public Schools in the Office of Legal Services and former bar counsel with the Florida Bar for over 10 years.
Richard Greenberg, Partner at RumbergerKirk, concentrating his practice in the areas of professional responsibility, professional licensure defense, and criminal defense. He has represented attorneys in grievance matters before The Florida Bar and representing Florida Bar applicants in proceedings before the Florida Board of Bar Examiners for more than 30 years.
Greenberg offered a review of The Florida Bar disciplinary process along with duties and pitfalls during a bar investigation. Judge Apte discussed what is and is not appropriate regarding a lawyer's relationship with the judiciary and reviewed the trial/referee's report. Cowans provided details about the discipline from the Florida Supreme Court and its role in the process along with the road to reinstatement when discipline includes suspension.
The case study demonstrates the Florida Supreme Court's trend toward harsher sanctions and discipline in ethics violations.
"Attorneys need to be cognizant of how their actions will appear to the general public. Here, the common refrain was 'I didn't appreciate it, I should have known better.' The errors in this case were obvious, but the perception of impropriety was not fully appreciated until the discipline from the Florida Supreme Court," said Patrick when asked what he hoped those who attended the CLE learned.