A Win for the Troops!
A Win for the Troops!
RumbergerKirk shipped 44 packages to 15 units serving in the Persian Gulf, Afghanistan, Qatar and Africa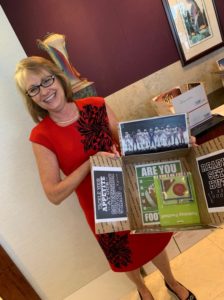 The Rumberger team pulled out another win for the troops sending fall-themed packages across the globe to soldiers, sailors and marines serving overseas. The "football and s'mores" packages were filled with graham crackers, marshmallows and chocolate bars to make s'mores, mini footballs, snacks, treats and all of the personal care items that are either expensive or difficult to come by for military troops serving in remote locations.
"Items we take for granted every day, like soap, razors, baby powder, toothpaste, wipes, sunscreen and socks, are treasures to these service men and women," explained Lisa Griffin, a legal assistant at the firm who began this program more than 10 years ago and coordinates shipments 3-4 times a year.
"Our goal is to make sure they know how much they are appreciated," she added. "In addition to the personal care items, we like to include treats, snacks, coffee and drink mixes to make the packages extra special."
Every few months, the Rumberger team donates all of the supplies and money to cover purchasing additional supplies and shipping, as well as their personal time to pack boxes during their lunch hour.
"I'm always so thankful each time for the magnificent support that makes these shipments possible," said Lisa.  "We even get help from our partners including Orange Legal and Milestone Reporting."