Another Mock Trial in the Books!
Another Mock Trial in the Books!
Our summer associates, Paris Baker, Phoenix Barker, Grace Kobitter and Eric Lyerly finished their work this summer with our annual mock trial held on Monday, July 29 in our Orlando office.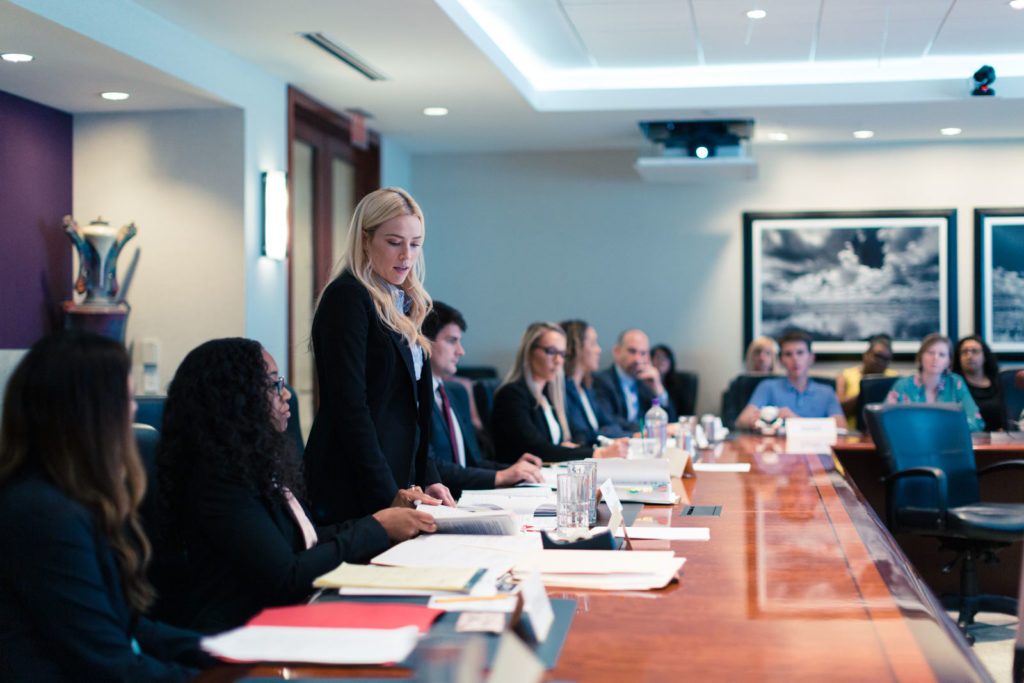 They prepared and competed on teams of two. Each team participated in two trials (once as plaintiff and once as defendant). Each summer associate did motions in limine, an opening, closing, direct, and cross of a witness. The summer associates had about three weeks to prepare, and several attorneys in each office volunteered as coaches and witnesses.
The case involved the Plaintiff who was a widow claiming that her husband/pilot died when his plane went out of control as the result of a defective and malfunctioning fuel pump switch. The defendant, the aircraft company, claimed that the fuel pump switch was working properly and that the pilot/husband either intentionally crashed the plane committing suicide, or that the accident was caused by pilot error.
Eric Lyerly, a student from Stetson University who split time working in our Orlando and Birmingham offices, said the mock trial felt like boxing. "You have to roll with the punches. Inevitably, testimony or evidence you thought was unobjectionable is ruled inadmissible. These moments change the tone of the case and alter carefully crafted trial strategy," he said. "I suppose what makes a good lawyer, to quote Rocky Balboa, is 'how hard [they] can get hit and keep moving forward.'"
Paris Baker, a Barry University student who worked in the Orlando office, felt ready to deliver the opening statement said, "Honestly, there were some things that didn't go our way the first trial and it initially had us in a slump. There was evidence being kept out, objections being sustained on their end and overruled on our end, but Phoenix and I were still able to overcome and finish strong," she said.
The partners serving as judges offered advice to the summer associates between trials. "Dan Gerber emphasized the importance of passion and telling the story. David Shelton focused on knowing the legal arguments and evidentiary rules. Rob Blank echoed their sentiments and said that we were much better in the afternoon," said Paris.
Grace Kobitter, a Stetson University student who worked in Tampa said she and her team member Eric put a lot of long hours into the mock trial, so they walked into the boardroom feeling confident. "Getting certain pieces of evidence admitted was difficult, and some of Chief Judge Rob Blank's rulings really required us to rethink how we could prove the elements without a specific fact or exhibit—this was definitely true in the plaintiff's case! But it had us think on our feet and learn to be flexible under pressure."
Special thanks to Patrick Delaney who did a great job coordinating the competition from start to finish this summer, and also to the mentors, coaches, witnesses, seminar presenters, IT support, office services and administration team who helped behind the scenes with guidance, encouragement, and support in multiple ways.
We wish our summer associates a fond farewell and best of luck in the future endeavors.