Hooray for the Red, White & Blue!
Hooray for the Red, White & Blue!
RumbergerKirk Ships 73 Packages to Troops Serving Overseas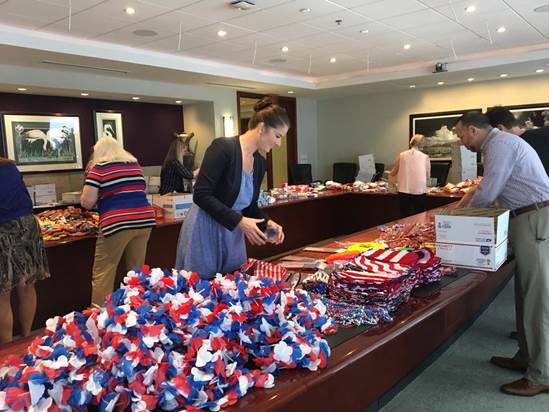 Mounds of snacks, hygiene items, socks, coffee and other supplies covered the conference room table in the Orlando office of RumbergerKirk on Thursday ready to be gathered into boxes and shipped across the world to men and women serving our country. In addition to the much needed supplies, each box contained festive red, white and blue leis, flags and other patriotic gear and notes of encouragement and thanks to help lift their spirits as they protect our freedom this 4th of July. It took the volunteers just 45 minutes to fill 73 boxes destined for nine units spread across the globe from Africa and the Persian Gulf to the tiny island of Diego Garcia.
"I'm so thankful for the support we receive to make this happen 3-4 times a year," said Lisa Griffin, a legal assistant at the firm who started this program in 2009 when her son was serving in the Marines in Iraq. "Over the years we have supported literally thousands of hard-working service people deployed to all parts of the world. My heart swells just thinking about it," Lisa continued.
This shipment included packages to support 4 units aboard the USS Harry Truman located in the Persian Gulf. Thousands of service people are on board the ship working hard to send off jets for nightly missions over the Middle East. During their deployment away from home for nearly a year, they will shove the jets off hundreds of times for countless missions.
"This time around, we received special requests particularly for ground coffee, drink flavoring, hygiene products and individually wrapped snacks," said Lisa. "It's always amazing to see the generosity of our staff who donate both items and money to cover postage of these boxes. We also receive help from Mateer Harbert, who supplied a huge donation of coffee and our friends at Orange Legal and Milestone Reporting who also donated items and helped pack the boxes," explained Lisa.
All of the RK offices step up to support the cause. Miami shipped four additional boxes of supplies to the USS Harry Truman and Tampa shipped three boxes to a Special Operations unit in an undisclosed location in support of a staff member's nephew. Birmingham and Tallahassee support the cause with financial contributions used to cover postage.
"It is truly a well-oiled machine and we couldn't make this happen without the generosity of so many who choose to participate or the support of our leadership," said Lisa. "I'm so proud to be a part of this great firm."