Operation Fall Sports: Boosting Troop Morale One Care Package at a Time
Operation Fall Sports: Boosting Troop Morale One Care Package at a Time
Team RumbergerKirk Ships Care Packages to Service Members Abroad
Despite a major office renovation disrupting the typical troop packing event, RumbergerKirk staff has rallied to put together boxes of supplies made to boost the morale of troops serving overseas. Each box has a regulation football, soccer ball, ball pump, table top basketball game, other small balls and typical sports snacks like bubble gum, sunflower seeds, cracker jacks, nuts and pretzels. The packages are sent to service members of family and friends of the firm who then share the boxes with their entire unit. This week's shipment is headed for Germany, South Korea, the USS Ford and other destinations.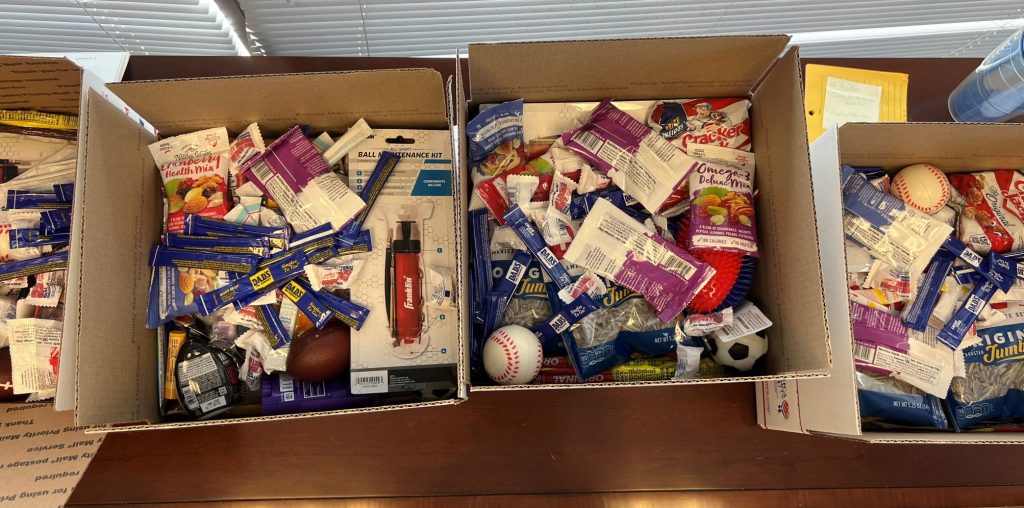 Lisa Griffin, a legal assistant at the firm, has been the leading the pack and coordinating troop shipments from the firm for the past 16 years. The program kicked off when her son was serving as a Marine and he told her how so many of his fellow servicemen were not receiving care packages or mail. Ever since, RumbergerKirk has been sending 3-4 shipments a year.
"Even though we didn't get together to pack the boxes this time due to the office renovations in Orlando, we still had so many employees participating and helping to ensure we had the supplies and money donated to fill and ship the boxes," shared Lisa. "It is truly a team sport to make each shipment possible. For this shipment, our Tampa office helped to collect and ship boxes and employees from all 5 offices contributed."
Way to go, Team RumbergerKirk!