Paul Lipton Hosts "Your Honor" Series for The Florida Bar
Paul Lipton Hosts "Your Honor" Series for The Florida Bar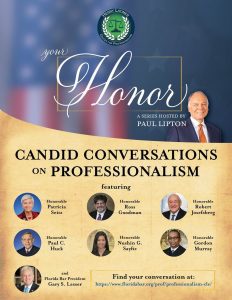 Hosted by Paul Lipton and presented by The Henry Latimer Center for Professionalism, this series features some of the most respected and celebrated federal and state judges candidly talking about professionalism and how to address unprofessional and uncivil behavior. The free professionalism CLEs include seven candid conversations on a variety of topics.
In the first episode Paul Lipton talks with the Honorable Patricia Seitz on "The Importance of Purpose". The discussion focuses on how to restore faith in the judicial system by knowing and honoring our purpose.
Each of the next five episodes features a different judge including the Honorable Ross Goodman, the Honorable Robert Josefsberg, the Honorable Paul C. Huck, the Honorable Nushin G. Sayfie, and the Honorable Gordon Murray. In his final conversation, Paul talks with The Florida Bar President Gary Lessar about Professionalism and Mentoring.