Remembering and Honoring Our Friend and Local Legal Giant : Leon Handley
Remembering and Honoring Our Friend and Local Legal Giant : Leon Handley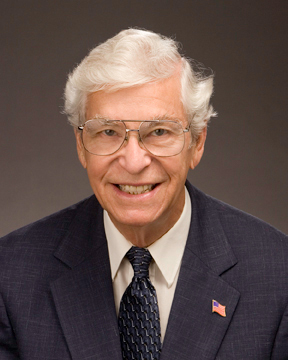 The RumbergerKirk family is mourning the loss of an Orlando legal giant. Leon Handley passed away on June 8, 2021 at the age of 93. In an era when jury trials were commonplace, Leon tried more cases than just about anyone in Central Florida, and made a name for himself as one of the best. He was loved by many and respected by all in the community. In addition to being a Past President of the Orange County Bar Association, his many accolades included being selected as a member of the American Board of Trial Advocates and a Fellow in the prestigious American College of Trial Lawyers.
Leon was once quoted "My major goal was to become a lawyer who had ability and was respected in the community. I've had this awful ambition all my life—I wanted to be somebody." He certainly accomplished his goal. Leon was the quintessential trial lawyer. He was a true gentleman with a charming and engaging personality, a near perfect memory, and an astute legal mind. He was respected by judges and opposing lawyers and esteemed by juries throughout his long career.
A Lakeland, Florida native, Leon was the first person in his family to graduate high school, as valedictorian. Leon served in the United States Merchant Marines during World War II, ending his service as a Warrant Officer. He enrolled in the University of Florida for a summer, then volunteered for the Army. After a tour in Korea he left active duty as a Sergeant and resumed his schooling. He received his Bachelor's degree from the University of Florida, achieving a four year degree in two years, and continued his education in Gainesville by enrolling in law school. Leon's first legal job was in 1951 working for the prestigious Orlando firm of Maguire, Voorhis & Wells. He then went on to practice law for five decades before coming to RumbergerKirk where he delighted in mentoring younger generations of attorneys for 15 years. Leon contributed to the excellence of our firm from his vast trial experience and enriched our culture through his cheerful and positive personality.
Leon was a dear friend to all of us, particularly in the Orlando office. He always had a kind word or an amusing anecdote to share, and he inevitably brightened our day by his presence. He was a man of tremendous character and integrity and we were honored to have Leon as a part of our firm.
A devoted husband and a loving father and grandfather, Leon was also a prominent member and Sunday school teacher at First Presbyterian Church of Orlando where he taught for sixty years. He also had a passion for travel ever since his service in the Merchant Marines. In his office at RumbergerKirk, his wall was adorned by a large map of the world with push pins marking all of the places he visited. Featured in an Executive Profile by the Orlando Business Journal in 2018, he answered the question of what he would always wanted to learn with "Everything about the world we live in."
His family has a long and deep connection with RumbergerKirk and our thoughts are with them at this time.