RumbergerKirk Celebrates Diversity in the Workplace: Honoring Asian and Pacific Island American Attorneys
RumbergerKirk Celebrates Diversity in the Workplace: Honoring Asian and Pacific Island American Attorneys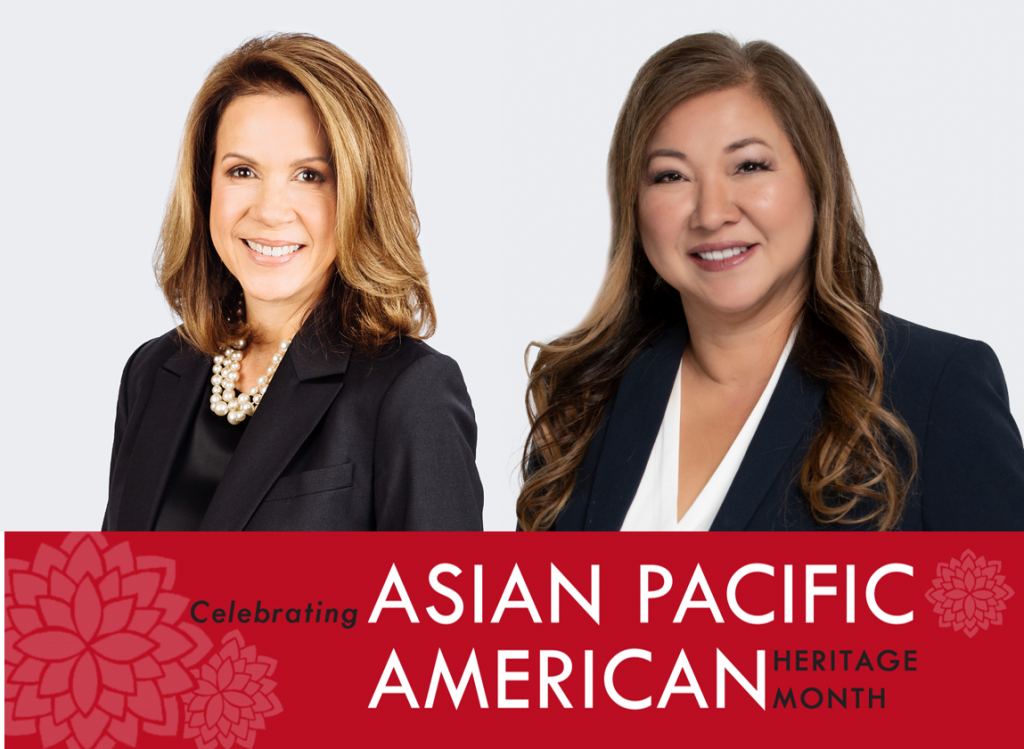 Each May, Asian/Pacific Island American Heritage Month offers the opportunity to celebrate and pay tribute to the contributions generations of Asian and Pacific Island Americans have made to American history, society and culture. Originating in Congress in 1977, the month of May was chosen to honor the immigration of the first Japanese to the U.S. in May of 1843 and to mark the completion of the transcontinental railroad, which was built primarily by Chinese laborers.
In our firm, we celebrate our own Asian and Pacific Island American attorneys who have contributed to making our firm a rich, innovative and diverse environment including Suzanne Hill and Lan Kennedy-Davis. Each one's unique experience and strong work ethic has both influenced and led to their success.
While her biological parents were Irish and Filipino, Suzanne Hill was adopted as a baby and raised by her Korean mother and American father who had met while he was serving during the Korean War.
"I was raised with a Korean influence," she said. "While it is a different culture than the Philippines, it's interesting that I still grew up with an Asian/Pacific influence that gives me a different and more inclusive perspective of life."
Hill noted that while there aren't any specific traditions her family follows, food always played an important role in their home. "I learned a lot about Korean food. On holidays when people were making turkey or roast beef, my mom worked tirelessly in the kitchen preparing amazing Korean dishes," she said.
Food experts agree that Korean food's focus on vegetables and meats cooked without much oil make it one of the healthiest diets in the world. Food also plays an important role in Korean culture as medicinal with the use of many exotic ingredients. "I have several favorites, but I really enjoy Kimbap, which is Korea's version of sushi. My family rarely used raw meat to make it and while it is a challenge to make (like most sushi), it is very delicious," noted Hill.
Hill began at Rumberger as a law clerk in 1988 and returned as an associate in 1989. "I was impressed with the firm's collegial culture and talented attorneys. Surrounded by a firm committed to my success, I knew that I would not only learn how to be a litigator, but a true professional," she said. "That same culture continues to today." "Before starting law school, I spent a summer at a large law firm in Atlanta. That summer was such a positive experience, and taught me that true professionalism among colleagues is invaluable." "When I came to Rumberger, I found the professional environment I was seeking," she explained. "We continue to have an open-door environment where there's no hesitation to seek advice and welcome questions, advice or inquiries. It's very collegial and respectful, and fosters a successful environment." Just recently, Hill was elected as the first female member to the firm's Executive Committee. "My parents always encouraged me to do my best and work hard to reach my goals," advised Hill.
In addition to the culture of the firm, Hill has enjoyed a diverse commercial litigation practice defending financial institutions, lenders, law firms, business owners and professionals in a wide variety of commercial matters including professional liability defense, intellectual property and employment litigation.
Hill says that she particularly enjoys her work in defending attorneys, not just in legal malpractice, but also in a wide variety of claims from negligence to breach of fiduciary duty to state bar proceedings involving grievances and claims of misconduct. "In addition to getting the opportunity to learn their field of expertise, they are so appreciative of the time and effort put into defending their work," she explained.
Over the years, Hill has handled appeals and tried jury and non-jury cases throughout Florida state and appellate courts, federal district courts and bankruptcy courts, and the Eleventh Circuit Court of Appeals. A couple of cases stand out for her including a recent trade secret case where she was working with national counsel.
"When it came to trial, the national counsel entrusted me to do the opening, cross examination of a primary defendant and, half of a marathon 7-hour closing. In another case, I started out as the local attorney and ended up as trial counsel doing the opening, witness examinations and closing in that trial. In both cases, it was so rewarding to start out in a smaller role and be recognized and given the lead role during trial," she said.
Fleeing Vietnam with her family at the age of six, Lan Kennedy-Davis was determined to seize the opportunities America offered and make a difference. Because her father worked for the U.S. Embassy in Saigon, her family was taken on a 10-day voyage to Guam where they sheltered in a refugee camp until they were flown to America two months later. Arriving in a small town in Connecticut, her mother, who did not speak English, stayed home to raise seven children while her father worked as many shifts as his hospital employer allowed. He told his children to take advantage of the opportunities in America through education and hard work, which is exactly what Kennedy-Davis did.
"I was determined to get a scholarship so that I could go to college," remembered Kennedy-Davis. Told that she needed good grades, a challenging course load, extracurricular activities, and leadership skills to earn a scholarship for college, she went on a mission to check off all the boxes and to satisfy her own thirst for knowledge.
The top-ranked female graduate in her high school class, Kennedy-Davis filled her plate with as many opportunities as she could. She thrived as a student, athlete and leader. After her junior year, she was invited to the University of Connecticut's convocation for excellence and offered a full scholarship and early graduation. She went to Trinity College on a full scholarship and received Faculty Honors and graduated from the University of Connecticut School of Law with Honors.
During law school, Kennedy-Davis made the conscious decision to give back to the country that took her in through her career as an attorney. Although she worked during law school, she made time to volunteer as an intern at Connecticut Legal Aid. "My first case was to help a mother with five children, who did not speak English well, get food stamps," remembered Kennedy-Davis. "I cannot recall a point in my career where I wasn't handling a pro bono matter and I actively support a number of non-profit organizations that help those in need," she added.
As Kennedy-Davis embraced her new country, her family continues to celebrate their Vietnamese heritage in many ways, including observing the Vietnamese Lunar New Year, which is the culmination of all Vietnamese holidays. "The Vietnamese community in Central Florida puts on events each year, and our family continues to participate and enjoy it every year."
A pinnacle moment in her career was when she worked as sole counsel in an arbitration of a $100 million claim by the South Korean government against a jet engine manufacturer. "It was a very political issue," she noted. As corporate counsel to the jet engine manufacturer, she was not only able to obtain excellent results for her client, but also maintained good political relations and helped the client secure future bids to supply more than $500 million in jet engines.
"We achieved all of our goals, and were also able to identify the engine issue that caused the crashes. We employed a safety plan to ground fleets, fixed the issue on both commercial and government jets and prevented any harm to the public," she said.
Kennedy-Davis has a strong background in business and a degree in economics. Her business acumen combined with her love of the law and working with people make corporate transactional work her favorite area of practice. She is also a strong and seasoned civil litigator.
"Transactional law allows me to do all three of my favorite things: work with people and advise them in business and the law on a day-to-day basis," she said. "With corporate transactional work, I am an asset to the client by helping them build their business while strategically minimizing risk and increasing their likelihood of success and profitability."
A newcomer to the Rumberger family, Kennedy-Davis felt an instant connection with the people. "Most important to me in my decision on where to practice law was with whom I would be practicing. There's a sense of collegiality and camaraderie at Rumberger and I'm among people with whom I'm proud to both call my colleagues and friends," she said.
Rumberger is made up of many diverse individuals, but we all work hard toward the same goal of providing innovative legal services to our clients. Our culture of inclusion and mutual respect enables a team of uniquely different individuals to bring unique perspectives to solve the most complex problems.