RumbergerKirk Attorneys Receive the 'Secretary's Award for Excellence' from the Florida Department of Corrections
RumbergerKirk Attorneys Receive the 'Secretary's Award for Excellence' from the Florida Department of Corrections
The Florida Department of Corrections (FDC) awarded RumbergerKirk attorneys Dan Gerber, Nicole Smith, Samantha Duke, Joshua Lerner and Jeffrey Grosholz the Secretary's Award for Excellence for their excellent work and legal expertise in defense of the Department.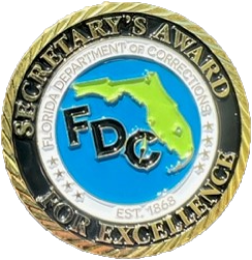 The attorneys defended the Department in a federal class action lawsuit where plaintiffs Southern Poverty Law Center, Florida Legal Services and the Florida Justice Institute alleged FDC engaged in unconstitutional solitary confinement of approximately 10,000 inmates. After three years, the plaintiffs dropped the case and paid FDC more than $210,000 in legal costs.
"For the last several years, you provided outstanding counsel and litigation acumen in a case of the highest importance to the safety and security interests of the Department. We thank you for a task very well done and for the most vigorous advocacy in the face of opponents seeking an ideological goal which, if successful, would have placed our staff and our inmates in greater danger. Such opponents are difficult to handle but you did so in an exemplary manner," said DOC General Counsel Lance Neff in a letter to the attorneys.
"The team comprised of attorneys and staff in Tallahassee, Orlando and Miami epitomizes RumbergerKirk's team approach," said partner David Marsey who has represented the Department for many years.