RumbergerKirk Attorneys Serve as Jurors and Scoring Judges During the UF Law Trial Team Final Four Competition
RumbergerKirk Attorneys Serve as Jurors and Scoring Judges During the UF Law Trial Team Final Four Competition
Several lawyers from RumbergerKirk served as jurors and scoring judges for those participating in the annual Final Four Competition held by the Trial Team for the University of Florida College of Law on September 18, 2020. The competition features the top four scoring competitors from the Trial Team's tryouts as attorneys in a condensed mock trial. The Trial Team participates in a number of trial competitions throughout the year, all of which involve pre-trial preparation, motions, examination of witnesses, and arguments to the jury.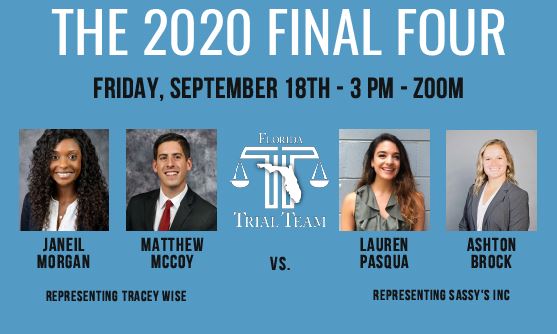 Held remotely this year due to COVID-19 concerns, the structure of the competition remained relatively unchanged with participants competing in a condensed mock trial that lasted two to two and a half hours. RumbergerKirk attorneys determined the verdict and the winners of "Best Advocate", "Best Team," and "Best Witness."
"I'm always impressed with the skill level, competitiveness and tenacity of these law students. They exhibited the dedication required to become trial lawyers, and seemed to enjoy participating in this difficult event," remarked Dick Caldwell, one of the firm's founding partners.
After the competitors received critiques from the scoring judges, a virtual reception was held where current Trial Team members, guests, and volunteers from RumbergerKirk were invited into "breakout rooms" for smaller group discussions.
Special thanks to the RumbergerKirk attorneys who made time in their busy schedules to participate in this event including Dick Caldwell, Brad Davis, Richard Greenberg, Charlie Mitchell, Lan Kennedy-Davis, and Steve Smith.