RumbergerKirk Shipping Holiday Joy to Troops Overseas
RumbergerKirk Shipping Holiday Joy to Troops Overseas
RumbergerKirk shipped 98 holiday care packages to troops serving overseas in Afghanistan, Bahrain, Persian Gulf, Qatar and other remote locations.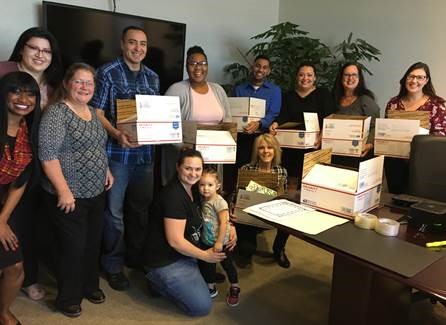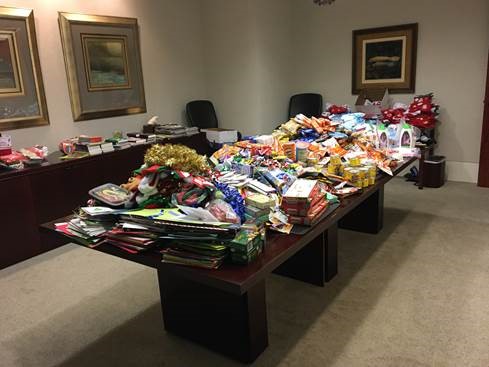 Several times a year, RumbergerKirk ships care packages containing difficult to obtain items and special requests to troops serving overseas. In addition to the personal hygiene items, books and snacks, the holiday packages contain stockings filled with goodies and other fun surprises such as elf hats, reindeer headbands, reindeer candy canes, Santa hats and Christmas lights.
"Jerky is the number one requested item from service members deployed anywhere in the world,"said Lisa Griffin, legal assistant in the Orlando office who started the program eleven years ago. "We also receive many requests for water flavoring for bottled water," she continued. Tampa associate Robert Barton, a former Marine, said that the most useful items he received during deployment included wet wipes and hardy snacks.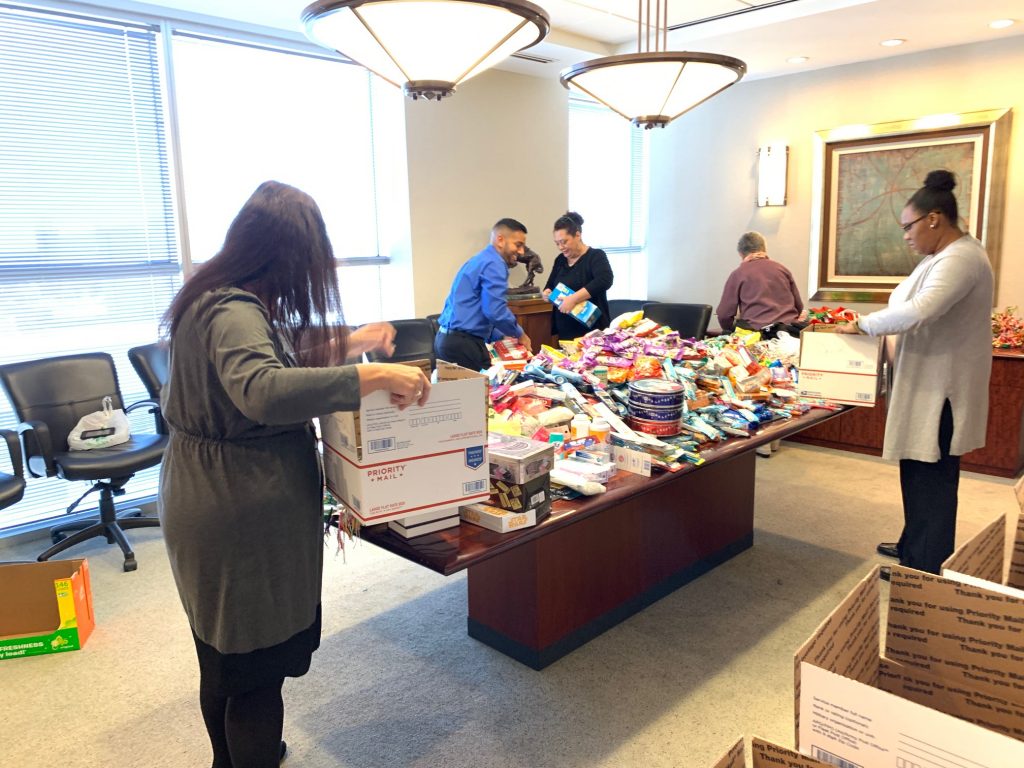 Attorneys and staff spend months gathering everyday items that troops in remote parts of the world often go without. Hundreds of essential travel-sized toiletries that can be difficult or expensive to obtain such as razors, deodorant, toothbrushes, toothpaste and baby wipes (which are often used in place of a shower) along with candy, snacks, books, magazines, clean socks, coffee and other goodies are collected and shipped out every few months.
RumbergerKirk's Pack & Ship Program is just a small way to say thank you to the men and women fighting for our country. "Just knowing that people back home appreciate their sacrifices serving our country makes being away during the holidays just a little bit easier," said Griffin.
Although the boxes are sent to a named service member, they are shared with the entire unit. "It is hard to know exactly how many people we impact with our shipments," said Griffin. "We must send to a named individual, so we send multiple boxes to the individual and they then share them. Sometimes they share with the civilians who work with them also, especially when we send s'mores or other more interesting snacks."
"For many of these brave men and women, just knowing that people back home appreciate their sacrifices serving our country makes being away during the holidays just a little bit easier," she added. "Knowing that we continue to think about them and take care to fill the occasional special request, helps to soften their sadness at being away from home and loved ones."