Spring PEEPS® are in Formation and Flying to their Final Destinations
Spring PEEPS® are in Formation and Flying to their Final Destinations
RumbergerKirk Ships 42 boxes Stuffed with Necessities and Treats to U.S. Military Troops Serving Overseas
Each spring, as the flowers begin blooming and the weather turns warmer, RumbergerKirk employees begin donating PEEPS® Marshmallow Chicks and Bunnies—along with other goodies and necessities– as part of the annual spring troop care package shipment. From necessities like socks, deodorant, shaving cream, razors and other expensive or hard to get items to treats, snacks, drink mixes, coffee and more, boxes are packed and shipped to service members overseas.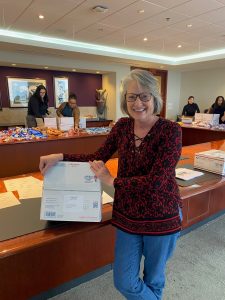 "The springtime packages are always so colorful because of the PEEPS®," said Lisa Griffin, a legal assistant at the firm who spearheads the program. "They are so cheerful, it's like packaging up a little sunshine to brighten their day," she added.
Making sure troops feel appreciated and remembered is what has kept Lisa driving this effort for the firm for 16 years. She began the program when her son was serving as a Marine and he told her how so many of his fellow servicemen were not receiving care packages or mail. Ever since, RumbergerKirk has been sending 3-4 shipments a year. The firm sends the packages to service members of family and friends of the firm and those individuals share the boxes with their entire unit.
Boxes are headed for two ships, the USS Lewis Puller, and the USS Ronald Regan, and units stationed in South Korea, South Africa, the Middle East, Baharain and other places around the world.
"I'm overwhelmed and thankful for all of the support from employees of the firm who donate goods and money to mail the boxes as well as their lunch breaks to pack and prepare the boxes for shipping," said Lisa. "It truly is a team effort that makes each shipment possible."