Tallahassee Paralegal Carlie Duquette Takes the Helm of the Big Bend Chapter of the Paralegal Association of Florida
Tallahassee Paralegal Carlie Duquette Takes the Helm of the Big Bend Chapter of the Paralegal Association of Florida
RumbergerKirk paralegal Carlie Duquette has been elected to serve as the president of the Big Bend Chapter of the Paralegal Association of Florida where she has been a member for the past five years. Her term will last through the end of 2024.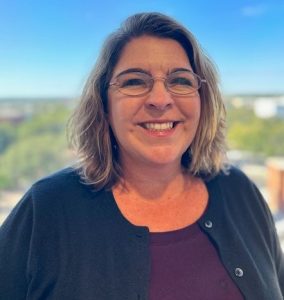 Carlie began her paralegal career 20 years ago and has been working with RumbergerKirk in the Tallahassee office for the past 12 years. We asked Carlie to share a little about herself.
What attracted you to the profession/led you to becoming a paralegal?
I enjoy investigating, researching, and solving problems.   I wanted to work in a profession where I wouldn't be bored.  The legal profession certainly provides variety and excitement.
What do you enjoy about your work as a paralegal?  
The most enjoyable thing is the challenge that each new case presents.  I love taking a big mess and organizing and dissecting it into something that is sensible and beneficial for the progress of the case.
What do you enjoy about being a member of the Paralegal Association of Florida?  
I enjoy the variety of continuing education and exposure to different areas of law.
Tell us a little bit about yourself:
I am a Florida native who grew up in central Florida. I graduated from FSU with a bachelor's degree in political science (Go Noles!). I began working in the legal field in 1997 and have held several different roles. I've lived in Tallahassee for the last thirteen years and have two children and two cats. In my free time I enjoy reading, swimming and playing pickleball.