The Federation of Defense and Corporate Counsel Presents Larry Smith with the FDCC Diversity Award
The Federation of Defense and Corporate Counsel Presents Larry Smith with the FDCC Diversity Award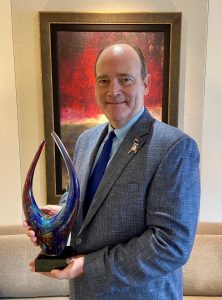 The Federation of Defense & Corporate Counsel (FDCC) presented its 2022 Diversity Award to Larry Smith during the Annual Meeting in Seattle, Washington in July.
The annual award recognizes a member whose efforts embody the spirit of the organization's Diversity Statement and to expanding the mandate of inclusiveness within the profession. It also recognizes the recipient's dedication to the principles of advancing diversity within their community and as emblematic of the ideals of ensuring equal opportunity for and treatment of all persons regardless of race, ethnicity, sex, disability, country of origin, socio-economic status, religion, age, marital status, sexual orientation, or gender identity.
"I understood inequities from the time I was an early teen and felt the need to be closeted. It was not until I was a lawyer — after I had been married and had two children — that I found the courage to not only confront my own sense of insecurity, but also to give a voice to people who I felt were even in a weaker position than I was," Smith recently told the Orlando Business Journal after receiving that publication's Diversity in Business Lifetime Achievement Award.
After writing to a Florida Supreme Court justice about the importance of including sexual orientation as an integral part of professionalism in 1999, Smith was appointed to serve on the Florida Supreme Court Commission on Professionalism. He would serve for more than 20 years, including three times as chair of its diversity subcommittee. He was recognized last year by The Florida Bar Diversity and Inclusion Committee's Path to Unity program as one of five trailblazing Florida lawyers whose significant contributions paved the way for others based on their achievements championing race, gender, ethnicity, sexual orientation, and disability issues.
The FDCC is an international association of lawyers across five continents whose members are recognized leaders in the legal community who have achieved professional distinction. The Federation is dedicated to promoting knowledge, fellowship, and professionalism of its members as they pursue the course of a balanced justice system and represent those in need of a defense in civil lawsuits. Learn more.