The Rumberger Cookin' Counselors Spice Up Birmingham
The Rumberger Cookin' Counselors Spice Up Birmingham
The weather was warm and the competition was hot, but RK's Birmingham office rose to the challenge with a chili recipe that spiced things up and earned them a 2nd place trophy. With 90 teams competing, it takes some special chili to really stand out and according to Scott Williams, a partner in the Birmingham office, that special ingredient is spicy sausage.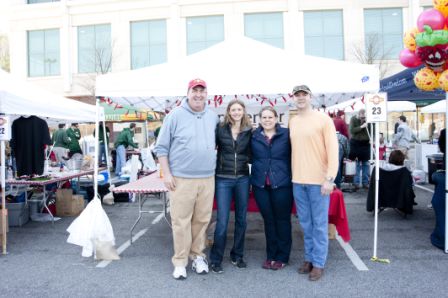 "Our firm was well represented and it was a team effort," said Scott. "More importantly, we had a great time supporting a great cause. More than 10,000 visitors attended the event to raise money for the Exceptional Foundation, a one-of-a-kind organization that is very special to our community," Scott continued.
The Exceptional Foundation provides year-round services to individuals with special needs who have reached the age of 21 and no longer receive services from school systems. Programs are also offered to the school-age exceptional population through after-school activities and a summer camp. Daily programs include field trip outings, competitive sports teams and various social events. The overall daily goals of The Exceptional Foundation are to enhance the lives of its participants through a variety of activities and to provide a community for the mentally challenged population and their families. The Exceptional Foundation currently serves over 400 individuals in Greater Birmingham through its various programs throughout the year.
"We really did ourselves proud," Scott noted. "We were especially happy to beat out another firm who brought in a chef from a local country club to cook for them."
This is the second team from RK this year to be recognized in a chili cook-off. Congratulations!