Busy and Then Some
Busy and Then Some
Week two at Rumberger was busy: the assignments picked up significantly (I received 10). And none of them are quite the same. By the work load alone, one can tell that the attorneys put a lot of faith in the Summer Associates. What is more, the assignments are meaningful. For example, I was tasked with drafting a Motion for Summary Judgment—my first dispositive motion. Also, Paris and I are working on a profoundly important civil rights case. Add to this the Motion Seminar and Workshops, and you have a recipe for an outstanding week of work and training.
On Tuesday, we had our Motions Seminar with partner Dan Gerber. The session hearkened back to the early days of our legal education, such as Research and Writing I and II, where most of us drafted and/or argued a motion. However, this seminar, while undeniably cerebral, was also highly practical. It focused on form as much as substance. Indeed, there is something different about receiving Motions coaching from an attorney who does it for a living. At the end of the session, Dan wished us luck at the Motion workshop on Friday, the companion to the seminar where we apply what we learned.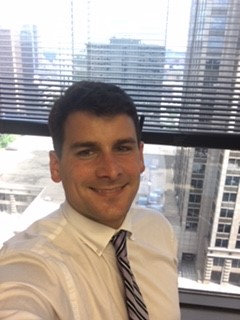 On Wednesday, Orlando had its Attorney Luncheon, a bi-weekly lunch-and-learn with two components. First, an associate does a case presentation on three recent litigation-relevant cases. They contextualize the cases, discuss their holdings, and opine about their implications. Next, a partner discusses an area of practice and offers experiential insights into it. Both the presentations and the lunch were great. I am not sure which gets the nod. I mean, we did have Four Rivers BBQ. As a southerner, I am enormously tough on BBQ, but this was good stuff! Incidentally, I am giving the case presentations at the next attorney luncheon. So, check back in a few weeks to see how it went. Also, if admin is reading this, please consider supplying a meal as noteworthy as Four Rivers––I need all the help I can get.
On Thursday, we went to a hearing at the Orange County Courthouse with associate Patrick Delaney. The elevators in the courthouse are weird. They do not have buttons; they are preprogrammed to shuttle passengers to a certain floor. I felt like I was at the Ministry of Magic. Later, Patrick prevailed in his matter before the judge. That also felt like magic. It was heartening to see a Rumberger attorney have courtroom success. Also, it made me excited to attend other hearings, depositions, etc.
On Friday, we had our Motions Workshop with Dan Gerber. Earlier in the week, Dan provided us with materials from which to argue. Paris and I each had 7 ½ minutes to argue our case, and then we flipped and argued from the other side—which is always tough. Afterword, "Judge Dan" offered thoughtful commentary on the strengths and weaknesses of our arguments. Overall, we both argued well, and we both felt that this was a valuable exercise. Now to work on the many assignments I have collected. See you next week.