The Mock Trial is Here
The Mock Trial is Here
I mainly prepared for the Mock Trial during Week 9. Let me tell you, trial prep takes on a sense of urgency the week before (mock) trial. One of the most fun parts of mock trial prep is getting feedback from coaches and attorneys. Some told us one thing, some told us another. But it was a neat way to learn our attorneys' trial personalities. I had some interesting assignments to work on between practice sessions: research on what constitutes a device under the Food, Drug, and Cosmetic Act; research on what types of attorney knowledge can be imputed to a client and others.
Also, I had some great lunches this week. I went to Nikki's West with partner Craig Alexander. Nikki's West is a famous meat-and-three in Birmingham. It is also Alabama's version of the Soup Nazi. Ordering food there is incredibly high-pressure. For my last day, Fred Clarke, Rebecca Beers, and Lauren Snyder took me to lunch at Chet Fon Fon. We discussed the finer things of life at this French restaurant: Harry Potter, Game of Thrones, etc. Alas, my time in Birmingham could not last forever. At the end of the day, I packed up my stuff to head to Orlando for the Mock Trial.
And then came the Mock Trial . . . which was wild. Two trials. Two different sides. Grace and I began the trial as the Defense. I gave the Opening Statement. I found myself unusually nervous, but I overcame it. It's eerie how invested we all became in our roles in the mock trial. It was a little like character acting. I, of course, was Heath Ledger. The first trial went by in a blur, and both sides did well.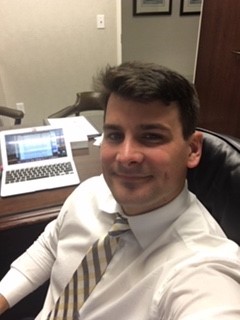 The second trial seemed to go by equally as fast. Trial feels like boxing: you have to roll with the punches. Inevitably, testimony or evidence you thought was unobjectionable is ruled inadmissible. These moments change the tone of the case and alter carefully crafted trial strategy. I suppose what makes a good lawyer, to quote Rocky Balboa, is "how hard [they] can get hit and keep moving forward." Overall, the mock trial was a fantastic experience.
That brings this summer to a close. It's hard to believe that it is over. Rumberger has been a terrific place to work, and I'm so thankful for the relationships I've built here. It will be hard to return to law school after an experience like this.