Week 10: Mock Trial Competition and Fond Farewells
Week 10: Mock Trial Competition and Fond Farewells
As the 2022 RumbergerKirk Summer Associate Program comes to an end, we want to congratulate Hannah, Mary, Chris, Madison, Ella, Evan and Jordan on a job well done. It was a pleasure to get to know this talented group of law students and reading about their experiences over the last ten weeks. The Mock Trial is the culmination of all of the skills presentations and workshops that the students learned over the course of the summer. This year, our teams for the mock trial were uneven, so Orlando associate Samendio Mathieu volunteered to participate. Congratulations to Evan Thomas for winning Best Advocate and to Chris Jablonski and Samendio for winning best team.
The students also participated in a writing competition and results were revealed after the mock trial. They were given a depo transcript and exhibits and asked to draft a motion to exclude Plaintiff's expert. Congratulations to Evan Thomas for writing the winning motion!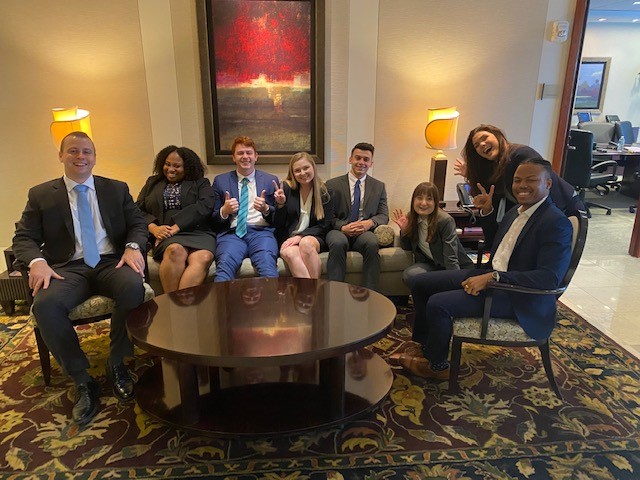 Let's take a look at what our 2022 Class of Summer Associates have to say about the Mock Trial and their time here at RumbergerKirk this summer: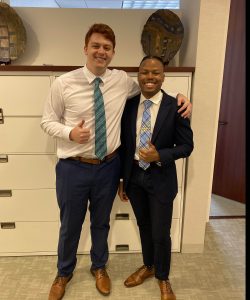 Chris Jablonski, Washington and Lee University
My summer here at RumbergerKirk is coming to a close. We completed the Mock Trial on Monday this week and now all that is left is to finish up the remaining assignments we have on our dockets. It has been a fantastic summer. I have not only learned so much and grown from this experience, but have also made friends and connections here at RumbergerKirk that will surely follow me for the rest of my law career in Orlando. It is with a heavy heart I am leaving and Fridays just won't be the same without our weekly happy hour.
The Mock Trial went great. My partner Samendio Mathieu and I took part in the first trial of the day starting at 9:00 A.M. . Samendio and I worked together very well and all of our hard work paid off because we won "Best Team!" It was an honor to receive this award and I am so glad to have had Samendio by my side.
Hannah Klonowski, Stetson University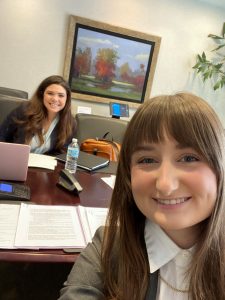 We officially finished the Mock Trial! I learned more than I can say from the experience. Before starting this process, I had no idea how to introduce evidence, I didn't know how to impeach a witness, and I didn't even really know about trial procedure or how a trial actually progresses. Of course, I never would have learned all of that without the help of my mentor, associate Jonathan Marcelo, and associate Reggie Guillaume. Reggie helped all of the summer associates learn how to introduce evidence, practiced objections with us, and even had us come up with direct and cross examinations on the fly to test our skills. And Jonathan helped me throughout the process by listening to every single iteration of my opening, direct examination, and cross examination that I was possibly able to come up with. I appreciate both of their time so much.
I also feel so fortunate to have had such an awesome teammate in Ella. It was a really fulfilling experience to watch both of us improve so much over such a short period of time.
Mary Hudson, University of Florida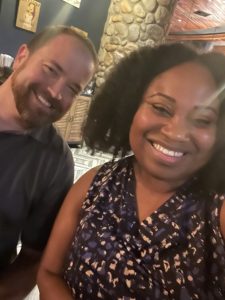 It's a strange feeling to know the summer is over. I learned so much in my ten weeks at RumbergerKirk, both about the business and practice of law. I attended hearings, depositions, inspections and networking events. I worked on substantive matters in different practice areas and I had the opportunity to work with so many different partners, associates and staff members. Finally, I collaborated with another summer associate as we represented our client in the Mock Trial. Getting prepped for trial is a lot of hard work. It takes long hours and a lot of reading, analysis, and combing through your records with a fine tooth comb. It is also incredibly fun to develop theories of your client's case and weigh those theories against each other to find your client's strongest case.
An extra special thank you to my mentor associate Jason Bullinger for allowing me to interrupt him at any hour of the workday to pepper him with questions or talk things through when I did not understand something. I wish I could list every person who took the time to teach me something or offer a friendly word this summer, but the word limit reins me in! I am very pleased I had the opportunity to spend my summer at RumbergerKirk. The program is crafted with intention and is an excellent experience for any law student.
Jordan Benatar, University of Florida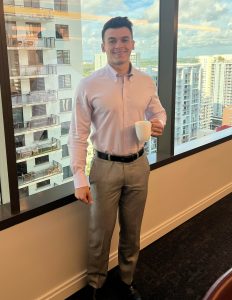 After all was said and done, I can say Mock Trial was an amazing learning experience. First, over the summer, I have watched depositions, propounded discovery, responded to discovery, and answered complaints. Doing these tasks was great, but Mock Trial gave an important perspective: it revealed the end to the means. In Mock Trial, I saw first-hand just how depositions, discovery, etc. are used in the actual trial. Now, when doing pretrial work, I will have a better understanding of the "why." Also, public speaking is something that has always been difficult for me. Putting myself out there in Mock Trial and speaking in front of plenty of real attorneys was nerve-racking. However, I did it, and now anything else will feel like a piece of cake!
Evan Thomas, Florida International University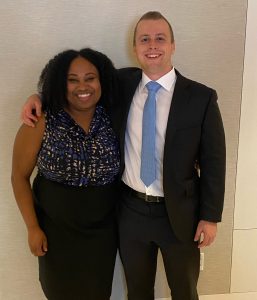 The long-awaited Mock Trial competition finally took place. All of the summer associates met in the Orlando office for the competition. While my teammate Mary and I waited for the first trial to end, my nerves consumed me. As much time as I had spent preparing for the Mock Trial, it didn't feel like I had done enough. Those nerves, however, went away the second we began our trial. During my cross examination, direct examination, and closing argument, I realized that I was prepared. Aside from doing my closing argument, I found that arguing the objections was the most fun. Having to strategically decide what to and what not to object to in the moment was a challenging task. Additionally, arguing against my opposing counsel on why evidence should or should not come in was a great test of our preparation and quickness on our feet. I cannot thank the attorneys and staff at Rumberger enough for giving me this invaluable experience. I look forward to applying all that I have learned here throughout my legal career.
Ella Biggins, Florida State University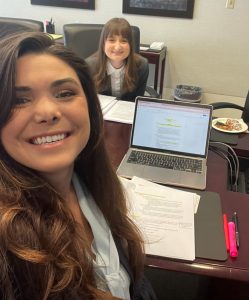 The summer associate program culminated with the Mock Trial this week. It felt great to get my feet wet with raising and responding to objections. My trial partner, Hannah Klonowski, and I divided responsibility with the opening and closing statements and witness examination. Hannah was a great partner and absolutely killed it. Maybe one day we will have the opportunity to be co-counsel again!
Our opposing counsel was Mary Hudson and Evan Thomas. Although we were adversaries, I enjoyed working with them because they raised their arguments with collegiality. It is also nice to be on the opposing side of advocates who are knowledgeable and hard working—it pushes me to be my best. After the trial, we switched back to 'friend mode' which helped me see how attorneys can maintain good relationships with opposing counsel, and still pursue zealous advocacy on behalf of their client.
This summer really flew by, but I learned so much along the way. Thank you to RumbergerKirk for providing such a great summer associate experience.
Madison Buckley, University of Florida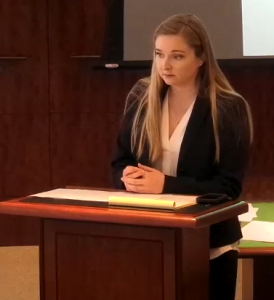 Last week was the lead up to the final event of the summer: the Mock Trial. I spent so much time in the conference room preparing with my partner, Jordan Benatar, from the Miami office and our coaches. Big thanks to everyone who helped us prepare, especially including our coaches from the Orlando and Miami offices! Although the preparation was so intense, I think my favorite part was seeing the improvements day to day. Every time I had a practice session, the next day I was able to see a big improvement by applying the feedback I received the day before. When it was finally over, it was the best feeling. I was so happy that I felt like it went well and that I could finally relax.