A Closer Look at Bud Kirk Outside the Courtroom
A Closer Look at Bud Kirk Outside the Courtroom
When Bud Kirk graduated from Seminole High School in Sanford Florida, it wasn't a Seminole, feathers or tomahawk that adorned his class ring, but instead the symbol of the town's most profitable crop, celery. The high school's sports teams were named the Celery Feds until the late 1950s when the crop lost favor among the Sanford residents who no longer relied upon it for their livelihood.
It is hard to imagine that Bud didn't always want to become an attorney considering his courtroom success, but he said that he was initially drawn to mathematics and science. Both Bud and his younger brother Scott—also a partner in RK's Orlando office, attended Stetson University for their undergraduate studies. Bud headed north to the University of Florida for his law degree while Scott stayed at Stetson for law school.
Bud shared that his father, who was a talented speaker and successful businessman, had always wanted to be a lawyer. Growing up in a poor family from Birmingham, Alabama, college was out of reach for him. "My father definitely lived vicariously through us."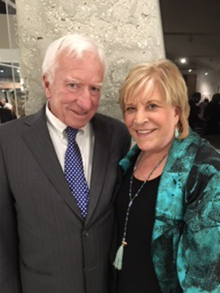 Married to his wife for 50 years, Bud said that it takes work to make a marriage last. "It's certainly a lot easier now than it was at other times," he noted. They adopted and raised a son and daughter who are now grown. "Our daughter lives almost 5 hours away in what is known as the "Gnat Belt" in Georgia. The town even has an annual festival in the middle of gnat season called "Gnat Days" where they have cake sales, 5k runs and tennis tournaments," Bud explained. "It's a wonderful little town between Thomasville and Albany. We enjoy going to visit her and our grandson, who has been the greatest gift to us all," he said.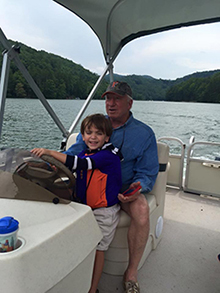 Now that the kids are grown, Bud and his wife sold their family home and bought something smaller. "We had a good time looking at houses together," he added. Bud and his wife also enjoy spending time in North Carolina where they bought a cabin that recently went through some renovations. "My wife has never asked for much," said Bud. "She wasn't a jewelry person or anything like that. What she wanted was a cabin," he laughed. Renovating the cabin was a horrible experience, but now that it's finished, she spends all summer there and Bud travels up for weekends.
While he says he spends time hunting, Bud says he's not very good at it. He finds the challenges in the courtroom far more invigorating than chasing animals in the woods. And, while working hard is important and a key to Bud's success, he makes time for reading and giving back to causes in which he believes.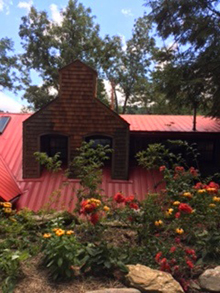 As an avid reader, Bud started an Internet Book Club with a versatile membership of lawyers, a fashion editor, an author and others he met through his work and travels. "We were able to keep it going for 5-6 years. We had the most interesting emails going back and forth about the books we read. They were just exceptional writers and thinkers and all of the discussions and arguments were excellent," he remembered.
The importance of giving back to the legal community. In 2015, Bud was recognized for reaching out to firms and asking for contributions for the Paul C. Perkins Bar Association scholarships. He was responsible for more than 50 percent of the funds raised. The association consists of lawyers and law students that support its goals of addressing the issues affecting the African American community.
"It was the easiest thing I've ever done," he admitted. "I just spent an afternoon at the University Club calling people and asking for donations for the scholarships. Everyone else sent out emails, but I believe that talking to people is more effective," he added. "I believe in the association and what it does for its members and the legal community.
Bud has served on the University Club Board of Directors since 2007. The University Club supports education through scholarships for local colleges and universities and has donated more than $1.5 million in scholarship funds to the University of Central Florida, Valencia State College, FAMU College of Law, Hamilton Holt School at Rollins College and Seminole State College.
A member since 1973, Bud said he wasn't as active in the earlier years because he just wasn't in town much. But, over the last decade, travel has slowed and Bud has had more time to devote to the Club. "We all really like each other," he said. "It's just a great group of people who are all so different, but enjoy each other's company," he continued.
In addition to his service to the University Club, Bud served on the Board of Directors for WMFE, Orlando's public radio station for nine years. "I'm an NPR junkie," he confessed. "The journalists at NPR are some of the best I can imagine, and I've had the honor of meeting some of the most interesting people including Robin Young, Robert Siegel and David Isay, founder of StoryCorps."