Celebrating Black History Month Through Film
Celebrating Black History Month Through Film
While movies and film may not be the best source for historical accuracy, they do offer an excellent opportunity to showcase the struggles surrounding racial prejudice and civil rights. In honor of Black History Month, we are sharing some films you may want to add to your lineup this month and beyond.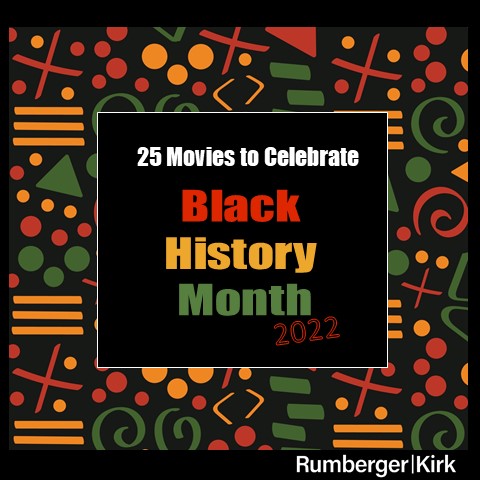 Assistant Professor in the Department of Film, Animation and New Media at The University of Tampa Taylor Raye Curry, MFA provided this recommendation of films for us:
"Imitation of Life" – John M Stahl's 1934 film follows the struggles of two women – one Black, the other white hustling to make ends meet during the Great Depression. A storyline focused on the former's daughter was the first of its kind- granting a black character much needed humanity in a 1930s reductionist cinematic landscape and a complexity celebrated Black actress Freddie Washington embodied with gusto. Douglas Sirk's 1959 version starring Lana Turner and Sandra Dee provides more nuance and flare to the piece, especially where celebrated Black actress Juanita Moore's character is concerned. However, Juanita's daughter is played by a white woman in Sirk's version.
"The Best Man"- A titular rom com, The Best Man follows an author and his tight nit group of friends preparing for a wedding. When salacious details from the book that implicate members of their friend group surface, pandemonium ensues.
"Killer of Sheep"- LA Rebellion filmmaker Charles Burnett's celebrated film sets a cerebral and pensive gaze on the lives of a Black working class family in 1978.
"Belle"- Inspired by the 1779 painting of Dido Elizabeth Belle, the film is a delicate period piece following a fictionalized version of Belle's life as a young aristocratic woman of 18th century England and the role she would come to play in abolishing slavery in her country.
"Daughters of the Dust"- The first theatrical wide-release of a film directed by a Black Woman, Julie Dash's Daughters of the Dust is a narrative with experimental roots following the women of the Gullah community of Coastal South Carolina.
"Love and Basketball" – A canonical romance directed by Gina Prince Bythewood, Love and Basketball explores the young love of two ball players, hell bent on making it big in the world of basketball.
"Eve's Bayou"- Inducted into the National Film Registry in 2018, Eve's Bayou follows the lives of an affluent Black family living in a small community in Louisiana. The film stars Samuel L Jackson, Journee Smollett, and Diahann Carroll.
"Black Panther"- Ryan Coogler's record breaking Marvel film is a must see- starring the late great performer Chadwick Boseman.
"Black Art: In the Absence of Light"- Oscar nominated director and celebrated NYU professor Sam Pollard weaves together a narrative about the exhibition and creation of Black Art and the invaluable contributions made by visual artists of the Diaspora.
In addition, we asked everyone at RumbergerKirk to share their suggestions and the resulting list is from a wide variety of attorneys and staff.
"Judas & the Black Messiah" (R; 2021)- Biographical crime drama depicting how William O'Neal, who was offered a plea deal by the FBI, infiltrates the Illinois chapter of the Black Panther Party to gather intelligence on Chairman Fred Hampton.
"Lovecraft Country" (TV-MA; 2020)- HBO series features the struggle to survive racist terrors of white America as a young African-American travels across the U.S. in the 1950s in search of his missing father.
"Just Mercy" (PG-13; 2019)- World-renowned civil rights defense attorney Bryan Stevenson works to free a wrongly condemned death row prisoner. Starring Jamie Foxx and Michael B. Jordan; inspired by Bryan Stevenson, founder of the Equal Justice Initiative. There's also a documentary about him available on HBO called "True Justice: Bryan Stevenson's Fight for Equality."
"Green Book" (PG-13; 2018)- A working-class Italian-American bouncer becomes the driver of an African-American classical pianist on a tour through the 1960s American South. Based on the lives of Don Shirley and Frank "Tony Lip" Vallelonga.
"If Beale Street Could Talk" (R; 2018)- Based on the 1974 novel of the same name written by James Baldwin. A young woman embraces her pregnancy while she and her family set out to prove her childhood friend and lover innocent of a crime he didn't commit.
"Hidden Figures" (PG; 2016)- The story of three African-American female mathematicians who played a vital role the NASA program during the early 1960's. Loosely based on the non-fiction book of the same name by Margot Lee Shetterly.
"Selma" (PG-13; 2014)- A chronicle of Dr. Martin Luther King, Jr.'s campaign to secure equal voting rights via an epic march from Selma to Montgomery, Alabama, in 1965.
"Antwone Fisher" (PG-13; 2002)- Inspired by the true story of a young Navy man forced to see a psychiatrist after a violent outburst leading to painful revelations and new hope. Written by Antwone Fisher and directed by Denzel Washington.
"Rosewood" (R; 1997)- Directed by John Singleton, a dramatization of a 1923 horrific racist lynch mob attack on an African-American community in Florida.
"Higher Learning" (R; 1995)- American drama film written and directed by John Singleton. People from all different walks of life, encounter racial tension, rape, responsibility, and the meaning of an education on a university campus.
"Get on the Bus" (R; 1996)- Spike Lee's drama depicting a disparate group of African-American men traveling across country by bus to Washington, DC for the Million Man March. Other Spike Lee movies recommended include Crooklyn and A Huey P. Newton Story.
"A Time to Kill" (R; 1996)- Legal drama film based on John Grisham's 1989 novel of the same name where a fearless young lawyer and his assistant defend a black man accused of murdering two white men who raped his ten-year-old daughter, inciting violent retribution and revenge from the Ku Klux Klan.
"Menace to Society" (R; 1993)-Directed by Albert and Allen Hughes, a young street hustler attempts to escape the rigors and temptations of the ghetto in a quest for a better life.
"Malcolm X" (PG-13; 1992)- Biographical epic of the controversial and influential Black Nationalist leader, from his early life and career as a small-time gangster, to his ministry as a member of the Nation of Islam. Directed by Spike Lee starring Denzel Washington.
"Mississippi Burning" (R; 1988)- Historical crime thriller film directed by Alan Parker that is loosely based on the 1964 FBI murder investigation of civil rights activists Chaney, Goodman, and Schwerner in Mississippi.
"Roots"- Television miniseries based on Alex Haley's 1976 novel of the same name.