Celebrating our Veterans
Celebrating our Veterans
RumbrgerKirk honors all who have served in the U.S. Armed Forces and thanks them for securing and preserving the freedoms we all enjoy. We especially want to honor our own who have served including attorneys Robert Barton, Dick Caldwell, and Jimmy Walsh, as well as team members Angel Hernandez and Jackie Santana.
Angel Hernandez, a paralegal in our Miami office, served as an Army Specialist, active duty 2006-2012 and then in the Army Reserves until 2019. She was stationed in South Korea during her enlistment. Jackie Santana, a legal assistant in our Orlando office, served in the Army as an E-4 Specialist from 1998-2001 in Fort Hood, Texas.
The attorneys were asked to shared some humorous and touching stories about their time in the service for a feature in Law360.
A Man's Best Friend
Robert Barton served in the Marines from 2007 until 2012 and shared his story about a dog named Miley.
My love for dogs grew during my time in Afghanistan. Miley, a local dog, fell in love with our platoon. It goes without saying that many members of our platoon fell in love with Miley as well. She had a solid black coat and appeared to be some type of a Labrador mix. She was loving, kind, playful, and protective. Of course, our platoon was also assigned a bomb sniffing service dog, but Miley was not a service dog, which meant we were able to pet her and play with her. If you ever served in a combat zone overseas, you know that love, affection, and happiness are emotions and feelings that are hard to come by, if not non-existent. The days are often very long and can be taxing on your body and mind.
Miley made every day just a bit more bearable by bringing us all a sense of joy and happiness at different times throughout our day. She joined us on every foot patrol and mission. She stayed by our side during firefights with the enemy, and she slept with us in our tents at the end of the day. Even better, she was not fond of the local Afghani populace, which meant she was a great guard dog! The Afghani locals did not care for dogs, however, and they were rarely pets. The dogs in the Helmand Province of Afghanistan were strictly guard dogs and were mistreated to no end. I assumed this maltreatment had something to do with Miley's distrust for the locals. Nevertheless, she would bark and growl at every Afghani soldier or citizen that approached our tents at night. This was significant because local Taliban leaders at the time were recruiting Afghani soldiers, with whom we shared an operating base, to kill Americans and their allies while they slept. With Miley by our side, we slept a bit more peacefully because we knew we were well-guarded.
Although I had always had dogs in my life growing up, my experience with Miley showed me what it truly means to be a man's best friend. By the end of our tour, she was certainly a member of our Platoon. She was not only a member of our Platoon, but she was also a friend, a family member, and a hardened combat veteran with more combat experience than all of us combined!
The "Honey Wagon"
Dick Caldwell served in the Army (active duty from June 1965 – May 1968) and the Army Reserve from 1968 until 1970. He shares this story about a not so sweet smelling "honey wagon."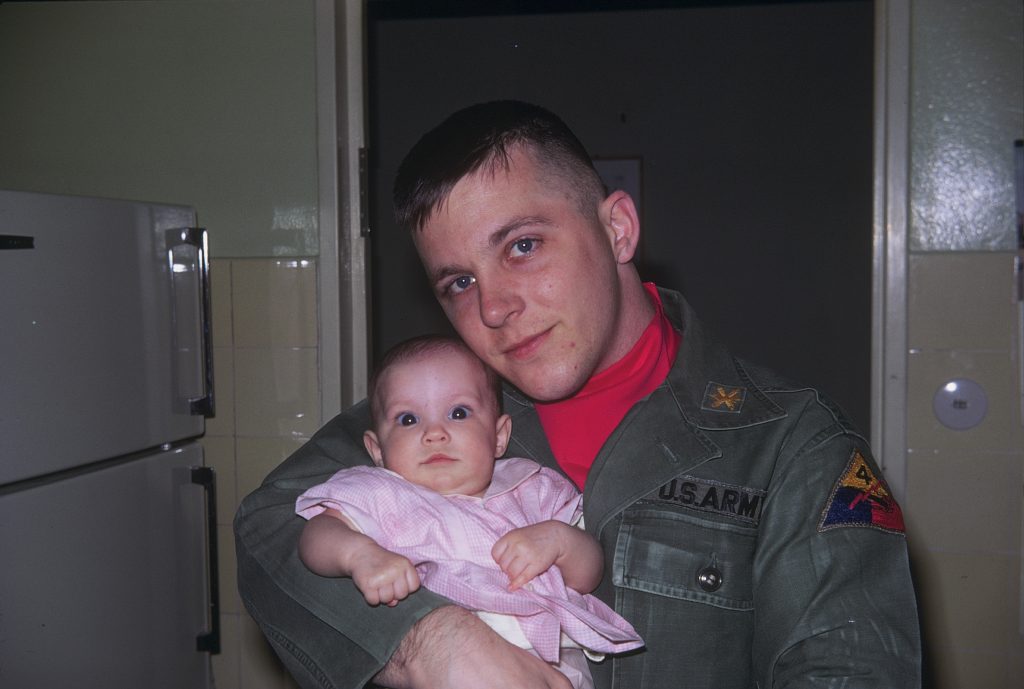 Our unit was stationed at a small post located in a largely rural area of Northern Bavaria. At that time, farmers in the area were fond of using human waste, pumped from local septic tanks, as fertilizer. On one occasion, a farm trailer (known as a "honey wagon") full of this material overturned right outside the front gate of the post, spilling unspeakably. For the next several days, the installation was not a pleasant place to live or work, although the spill was quickly cleaned up, and we tended to hold our breath for some time thereafter, when passing by the area. I do not believe there is any truth to the proposition that by the incident, the local population was expressing their opinion of the U.S. Army's presence in their area.
Thank you General Schwarzkopf
Jimmy Walsh served in the Army from 1968 through 1988. He was a dedicated soldier who was trained for combat and leadership. He never thought he'd end up a lawyer. We can thank General Schwarzkopf for that.
Jimmy graduated West Point and attended Infantry Officer Basic Training followed by Ranger School. After training, he served in Vietnam as an Infantry Officer and then taught Ranger school. He shares this story about how he became a lawyer.
"One of my teachers at West Point and my boss in Vietnam was General Norman Schwarzkopf. While teaching Ranger School, I started thinking about leaving the military because things were winding down and my chances for securing a command job were reduced. I couldn't imagine not doing what I had been trained to do. I was about to get married and I went with my fiancée to visit my family who lived close to Washington D.C. While there, I stopped at the Infantry Branch office to find out more about what was going on and where things were heading.
Schwarzkopf was in charge and when I told him I was thinking of getting out, he spent the next couple of hours looking for possibilities for me before finally suggesting law school. I had never given it a thought, and asked if he was kidding. He told me he never met anyone who liked to argue as much as I did. He told me I was a natural."