Founding Partner Bud Kirk Reflects on Yesterday and Moving Toward Tomorrow
Founding Partner Bud Kirk Reflects on Yesterday and Moving Toward Tomorrow
Bud Kirk shares insights on some of the changes he's witnessed in his storied career and his drive to continue moving forward.
"When I began my career, the trials were much smaller than they are today," noted Bud Kirk, a founding partner at RumbergerKirk. In the beginning of his career, Bud worked with an insurance defense firm before finding his way into real estate work. "Disney had come to town and real estate was booming," remembers Bud. Like all booms, there was a bust. During the recession, the number of malpractice cases against attorneys grew and Bud found himself working on those cases and began building his reputation as a "lawyers' lawyer."
"By 1981, I made my name as a trial attorney when the firm took over a case in Daytona Beach where there was a fire that destroyed a building," said Bud. "We spent six weeks defending the company that installed the roof and were able to get a witness, who happened to be in the federal witness protection program, to testify that he gave the money to the two men who set fire to the building," explained Bud. "After that case, GM asked me to try my first case for them and it was then that I became an accomplished trial lawyer," said Bud.
Bud says there was nothing he couldn't try, so the cases got bigger and harder and he got better. "In 2004, I was spending a lot of time in Tampa and I received a call from Florida Trend. I admit, I was pretty excited about the call thinking I'd made the 'Best Lawyers' list, but instead they were calling about an article about lawyers who get the hardest cases. The reporter told me I was on everyone's list," laughed Bud. The product liability defense cases Bud took on were no laughing matter, though. His high profile cases involved plaintiffs seeking recovery of millions of dollars involving catastrophic and life changing and/or life ending accidents.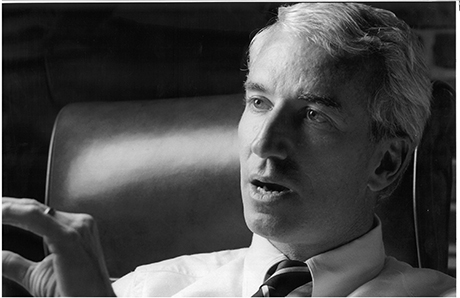 It is much harder now to get the opportunity to go to trial. "Trial attorneys are never afraid to take a case to trial, but it can be harder to find clients willing to support a trial due to the enormous costs and [potential] bad publicity companies can sometimes endure," he continued. As a result, there is a rise in litigators, who unlike trial attorneys, write papers, go to hearings and settle every case.
With fewer cases going to trial and more money on the line when they do, there is a lot at stake, giving rise to the popularity of mock trials. "We do a lot more mock trials these days," admitted Bud. "We're able to divide focus groups into 3-4 groups of six and then my partner and I each take a side and present the case, like the opening statements, etc. I tend to take the plaintiff's side and focus on everything bad about our case while making sure it's fairly presented, while my partner gives the defense side. We watch and listen to the focus groups deliberate. The companies predict the chances of winning or losing and we get ideas on how to better present the case," explained Bud.
Another big difference between trials at the beginning of Bud's career and today is the advent of technology. "Still today, I prefer using boards to help walk juries through and understand complex evidence. For example, with a board, I can blow up a picture and have a witness go over and circle the marks that were made in an accident on the road or something," explained Bud. "It's amazing the number of very sophisticated and expensive demonstrative aids these days, but every lawyer has to work with what they're most comfortable."
"When I began working with the automotive industry, the budget for defending the company's product was unlimited," noted Bud. "When I first started representing GM, there was a VP of Engineering who was a staunch believer in fighting every case." Bud explained that the loss of market share and changing markets required the company to change the way it ran on all levels including the legal department. "We started seeing more budgets and flat fees, so we adapted and changed the way we practiced to meet our clients' needs," said Bud. And, while Bud still represents a wide variety of domestic and foreign manufacturers of passenger cars and trucks as well as manufacturers of aviation and heavy equipment, Bud's commercial litigation practice has grown in size and scope.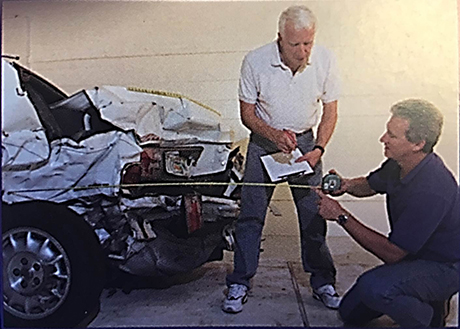 Bud's strong understanding of business issues began early in his career. In a way, he has come full circle. In the beginning of his career, he worked on a wide variety of commercial litigation matters, including real estate developers. As a young lawyer, he earned the reputation of the 'king of non-recurring legal issues.' "If it was something nobody else handled, I would take it on, learn it and do it," remembered Bud. "I enjoy the opportunity to grow and learn," he continued. Once Bud began concentrating on product liability with emphasis in the automotive industry, he says he still continued to defend professionals in legal and accounting fields. "I've always worked malpractice cases, which cover a wide range of fields and business issues and that's helped me develop a very broad background," noted Bud.
A significant portion of Bud's practice today is devoted to the representation of clients in commercial litigation matters, representing claims of contract breach, fraud, breach of fiduciary duty, negligence and professional malfeasance in the fields of law, accounting, real estate and communications. One relatively recent case that stands out as particularly rewarding was his work with Doug Brown, a partner in the Orlando office, where they worked with a real estate developer who sold memberships in a series of high end golf communities on the west coast of Florida.
"With most golf memberships, the developer does not return and cancel memberships until the club reaches maximum memberships, which never really happens," said Bud. For this particular developer, who Bud noted was just an exceptionally decent person, he returned members' money from 1993-2008 if they decided to cancel because the developer did not want to have unhappy members. "Unfortunately, when the market crashed in 2008, a flood of members tried to cancel memberships, which just wasn't feasible for the company," explained Bud. The Florida Attorney General sued the developer under an Unfair and Deceptive Trade Act claim. Bud and Doug were able to aggressively defend the case to the point that the Florida Attorney General dismissed its deception claims and proceeded on an abstract unfairness theory that was soon settled for an insubstantial amount. "Doug is a fearless attorney who isn't afraid to go to trial with any case. I really enjoyed working with him on that case," said Bud.
Working with a team of incredibly talented lawyers is Bud's favorite part of coming to work every day. "I have had the amazing opportunity to continually get into contests against the finest lawyers in the United States with millions of dollars at stake in every case. Having the opportunity to match wits, strategy, preparation, and talent against these people where there is a clear winner and loser every time is a thrill," explained Bud.
When first starting the firm, the founding partners weren't trying to build an institution. "We thought we'd be a firm of twelve [lawyers] or so and it would eventually blow up and we would all go separate ways," he said. "We had a big, big moment in the late 80s when our younger partners didn't have ownership in the firm and realized that if any of the five major partners left, the firm would be destroyed," he remembered. "It was very tense for a while, but in the end, we restructured the firm to allow more ownership and stakeholder opportunities which ultimately gave the firm a better chance to continue to grow."
The firm enjoys a deep-seated trust among its attorneys and staff which is an important factor in maintaining the firm's collegial and hardworking culture. "One of the reasons for this high level of trust is that there is longevity here," said Bud. "Our human resources manager has been working here since day one and she is an integral part of cultivating our culture. My first secretary from the first day I practiced law just retired after working with the firm all these years and my second secretary is still here," he noted. Many of the attorneys have worked at Rumberger for their entire careers, with several partners who started out as summer clerks.
In addition to having longevity with staff and attorneys, the firm also enjoys a loyalty and long-standing partnerships with its clients. "For example, I've worked with some of the same clients since the mid-70s," said Bud. He credits Frank Sheppard's leadership as managing partner for helping to foster the firm's culture, nurturing trust, focus on doing what's right and being client-focused. "We work hard, but we enjoy the work and the camaraderie we find in each other."