Rebecca Beers Selected to Birmingham's "Top 40 Under 40"
Rebecca Beers Selected to Birmingham's "Top 40 Under 40"
Selected out of more than 350 nominations for the Birmingham Business Journal's "Top 40 Under 40," Birmingham partner Rebecca Beers joins an elite group of individuals who have distinguished themselves in their fields before the age of 40.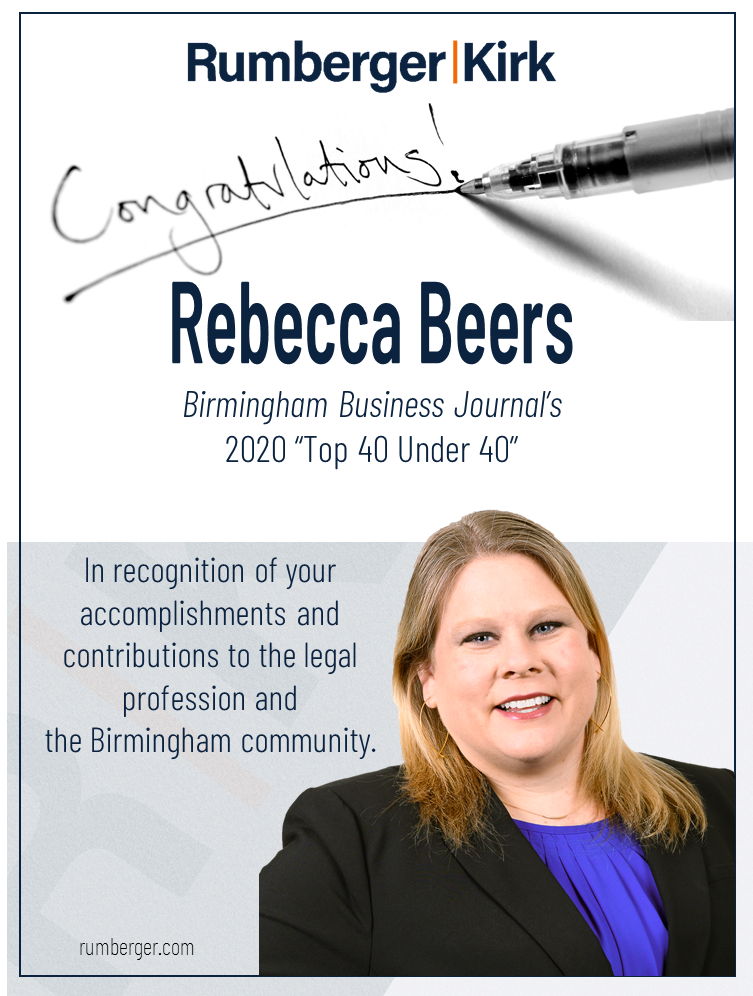 According to the Birmingham Business Journal, this year's class represents a diverse range of industries and companies and serves as a great reminder of the talent that exists in metro Birmingham. These emerging leaders will continue to shape the future of business in Birmingham for years to come.
In her profile, Beers was asked to share an accomplishment that she is most proud. She answered, "Twice I have written appellate briefs and won reversals of disastrous trial-level decisions for my clients. In both cases, the prospects on appeal were dim, but we submitted compelling briefs and won reversal for the clients."
She also was asked to share any strong mentors and what lessons she learned. "I had the honor of clerking for U.S. District Judge Bill Acker, who passed away in 2018. Judge Acker was an incredible mentor who taught me to think creatively, to find passion and be fearless in my work and to appreciate the value of humor," said Beers.
Read the full article to see more of Beers' answers and what the other emerging leaders had to say.