RK Holiday Troop Packages Spread Christmas Cheer for the 15th Year
RK Holiday Troop Packages Spread Christmas Cheer for the 15th Year
RumbergerKirk holiday elves packed up 63 care packages and shipped them to troops serving overseas for the 15th consecutive year. Boxes were filled with necessities like socks, deodorant, shaving cream, razors and other expensive or hard to get items along with treats, snacks, drink mixes, coffee and more.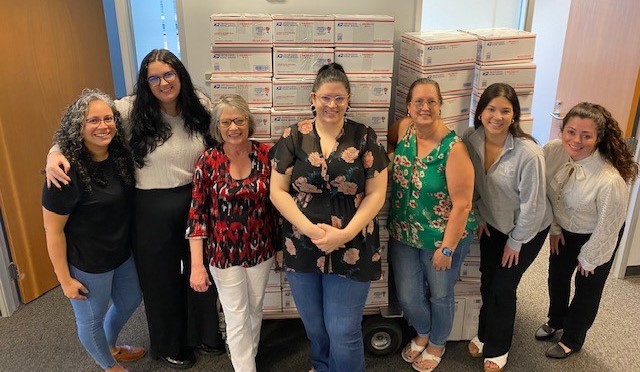 Included with each box are hand-made holiday greeting cards created by students from Jensen Beach High School. This year the students created 500 cards for inclusion. "The service members receiving the boxes have informed us that the cards create a bright spot in their day," said Lisa Griffin, a legal assistant at the firm who spearheaded the program. "It's heartwarming to know those cards will be displayed on bases across the globe," she added.
Lisa began the program when her son was serving as a Marine and he told her how so many of his fellow servicemen were not receiving care packages or mail. Each year, RumbergerKirk sends 3-4 shipments with the holiday shipment being the largest. The firm sends the packages to service members of family and friends of the firm and those individuals share the boxes with their entire unit.
"I felt like Santa Claus sharing all of the goodies," said one service member about the packages.
Boxes in this shipment are headed for Africa, South Korea, and the USS Lewis B. Puller among other remote and far away destinations.
"Each and every shipment is made possible by the generosity of our RumbergerKirk family," said Lisa. "All of the items are donated, volunteers spend their lunch break filling and labeling the boxes and shipping is covered through monetary donations," she added.
As soon as one shipment is finished, Lisa begins collecting donations for the next. She says as long as there are names on the list and a need, she will do whatever she can to ensure our troops feel supported and thanked for their service.