Rumberger Hosts Dade Legal Aid's Class IV Leadership Academy
Rumberger Hosts Dade Legal Aid's Class IV Leadership Academy
Paul Lipton Speaks about Professionalism and Ethics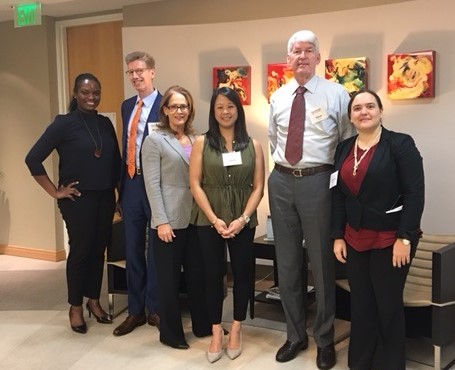 Dade Legal Aid and RK hosts Class IV of the DLA Leadership Academy for a luncheon discussing "Professionalism and Ethics" with RK's Director of Professionalism, Career and Skill Development Paul Lipton on Wednesday, November 8, 2017. The DLA Leadership Academy was formed four years ago to educate young lawyers on the services Dade Legal Aid and Put Something Back Pro Bono Project provides to our community. RK's Lacee Monk is a recent graduate of the academy.
In addition to Lipton, the Honorable Andrea Wolfson and Robert Josefsberg, with Podhurst Orseck, joined the discussion.
"We strongly support the work of Dade Legal Aid and their mission to not only serve and represent the less fortunate of our community, but we also work with them closely to engage the next generation of legal leaders of our profession," said Scott Sarason, RK's Administrative Partner in Miami.