RK Ships Holiday Cheer to Troops Deployed Around the World: 98 boxes were shipped to eight units deployed to Afghanistan, Africa, Iraq and Qatar
RK Ships Holiday Cheer to Troops Deployed Around the World: 98 boxes were shipped to eight units deployed to Afghanistan, Africa, Iraq and Qatar
Piles of packaged snacks, wet wipes, hand sanitizers, flavored water drops, coffee and creamer, shaving gear, personal hygiene items and more filled the RumbergerKirk conference room in Orlando as employees took their lunch hour to assemble the donated items into 98 boxes for U.S. troops overseas. Boxes were sent to eight units deployed to Afghanistan, Iraq, Qatar and Africa. Special units include a bomb detection squadron, a Navy Seals unit and a medical unit caring for injured military personnel. Special cards of thanks from senior citizens and children were included for the patients in the medical unit.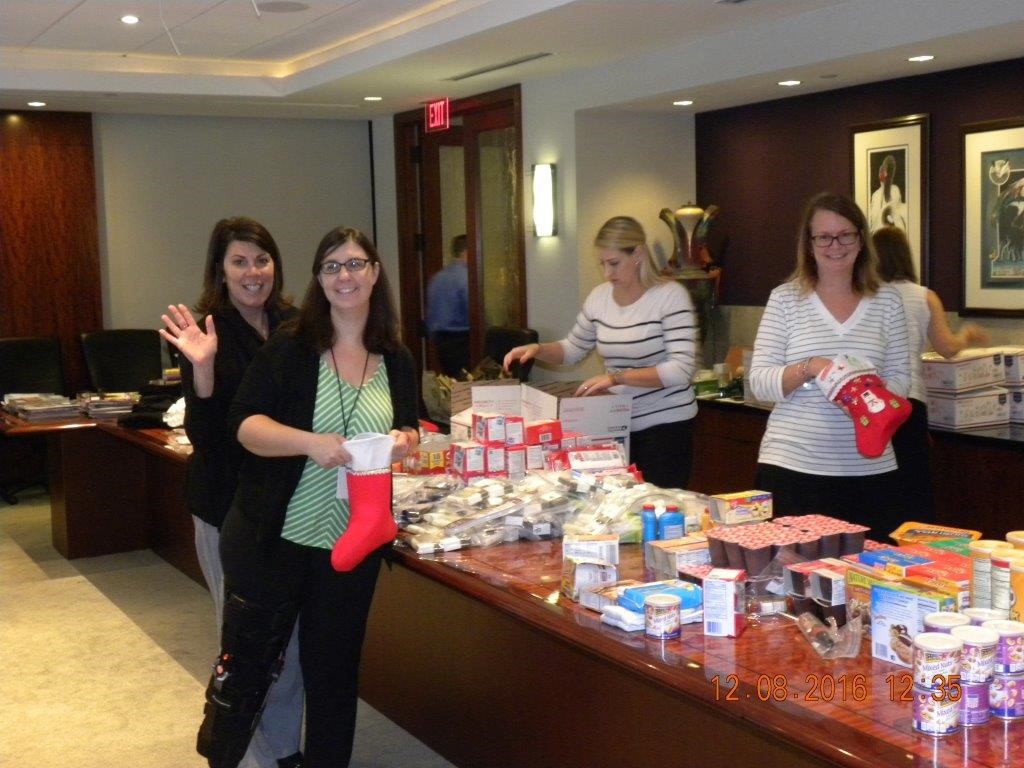 Richard and Alycia Schreiner helped to pack boxes this year as a thank you for their son who received packages for his troop last July while he was in Guam. "It's hard to explain what this means without crying," admitted Richard Schreiner. "These troops really appreciate these boxes because they really don't get much. It's very hard to get shipments to them and it's such a great thing that the firm does for them."
"The Holiday shipment is always very special," said Lisa Griffin, a legal assistant in the Orlando office who began this effort in 2009. "For many of these brave men and women, just knowing that people back home appreciate their sacrifices serving our country makes being away during the holidays just a little bit easier," she noted.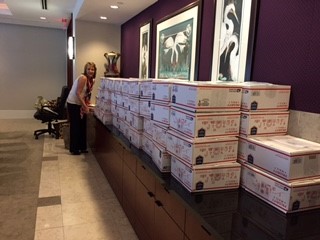 Lisa began this remarkable effort that is embraced by the entire RK family in 2009 when she began sending weekly care packages to her son, who was serving as a Marine in Iraq. After learning that many Marines close to her son received little to no mail, Lisa inspired her co-workers and the entire RK family to donate needed items to troops. RK's staff spends months leading up to the troop shipment gathering items that are often taken for granted here at home while troops in remote parts of the world have difficulty obtaining. Hundreds of travel sized toiletries, candy, snacks, magazines, books, clean socks, coffee and other goodies are collected for each troop shipment that goes out every two-three months.
In addition to the firm's staff, many of the firm's business partners assist with donations and packing the boxes including Orange Legal, Milestone Reporting, Mateer Harbert, Gordy Family Dentistry and Camo Dave's Jerky, Daytona Beach. In addition to these boxes, the Tampa office shipped out six boxes last week.
After the holidays, the team will go back to collecting donations for the Valentine's Day shipment.