Rumberger Heats Up Tallahassee in Chili Cook-Off
Rumberger Heats Up Tallahassee in Chili Cook-Off
Tallahassee Office Wins 5-Alarm Chili Contest at The Tallahassee Bar Association & Legal Aid Foundation's 18th Annual Chili Cook-Off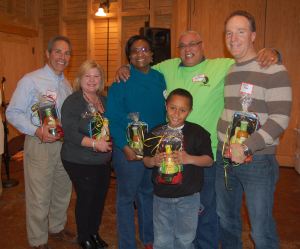 Thanks to secret ingredients "not found in Tallahassee," RK's Tallahassee office heated up taste buds at The Tallahassee Bar Association and The Legal Aid Foundation's 18th Annual Chili Cook-Off and beat out 16 other teams to bring home the 5-Alarm Chili Award. Awards were also bestowed to the Best Overall, Most Unusual, Best Margarita and Best Bedecked.
"The 5-Alarm Award is not just hot," says Linda Bond Edwards, a partner in the Tallahassee office, "it's taste with heat." Linda, with the help of her husband, created the chili this year and says the heat comes from a mixture of seasonings. Whatever they were, they must have been tasty. Linda said people kept coming back to the table for seconds and were scraping the pot with a spoon in the end.
Not your typical backyard or festival cook-off, the Tallahassee office made this an elegant affair. Imagine well-laid tables and chocolate-covered strawberries. And, held during the Florida Bar Board of Governor's meeting, many special guests attended and stopped by the table for a taste including Florida Supreme Court justices.
"The chili cook-off is a Tallahassee Bar Association tradition full of fun and fellowship," said Linda. "It's a great social and networking event and gives us an opportunity to have some bragging rights."
In addition to serving chili, the Rumberger team participated in the margarita contest complete with fresh berries. In addition, the team offered ginger snaps to cut the heat of the chili, chocolate-covered strawberries on a china dish, and hummus with pita chips thanks to the gracious hands of partner Richard Greenberg and his wife.
The Tallahassee office has participated in the event for the past three years and this is the second time they won the 5-Alarm Award. Congratulations!