RumbergerKirk's Annual Multicultural Food Festival & Cookbook Celebrate Diversity
RumbergerKirk's Annual Multicultural Food Festival & Cookbook Celebrate Diversity
Each July, RumbergerKirk hosts the Multicultural Food Festival, an annual potluck celebrating the diverse heritage of RumbergerKirk employees through food. Instead of having employees bring potluck this year, they submitted local restaurants that represent a cultural heritage that's important to them and/or the community. In addition, employees submitted recipes and stories that represent their heritage to build on the cookbook created last year.
It's always fun to see the different foods chosen by the different offices.
Tampa and Birmingham's celebrations featured food from Greece. The office administrator for each office, Theresa Longo, has noticed that many people haven't experienced Greek culture other than the standard Souvlaki (Gyro). Having married into the Greek culture, she wanted to introduce and share some of the foods unique to her husband's family that she enjoys. Birmingham enjoyed food from Tasty Town while Tampa's menu was from Acropolis Greek Taverna.

Some of the items featured included standards like spinach dip and Greek salad to Moussaka (Potatoes, eggplant, zucchini, onions and ground beef baked with creamy béchamel sauce) and Pasta Santorini (Penne Pasta in a creams Santorini lemon wine sauce mixed with chicken, mushrooms, onions, roasted red peppers and green peppers, topped with shaved parmesan cheese and Pesto sauce on side) to classic mixed grill of kabobs, souvlaki, gyro and Greek meatballs and Baklava for dessert.
In Miami, employees recommended Honduran and Greek restaurants to celebrate employees with Honduran and Greek backgrounds. They enjoyed lunch from two local restaurants including:
Paseo Catracho, an authentic Honduran restaurant located in the same area many Honduran immigrants first settled in Miami.
Maria's Greek Restaurant is also a local restaurant in Miami. That has been serving homemade Greek food since 1982.
In addition, the Miami office featured a variety of desserts to celebrate the diversity of cultures in the office and included:
Flan, a popular dessert worldwide that has a long history in Cuba and Mexico (Homemade by Lazara Camallea)
Tres Leche, a popular Nicaraguan dessert
Key Lime Pie, a Florida favorite.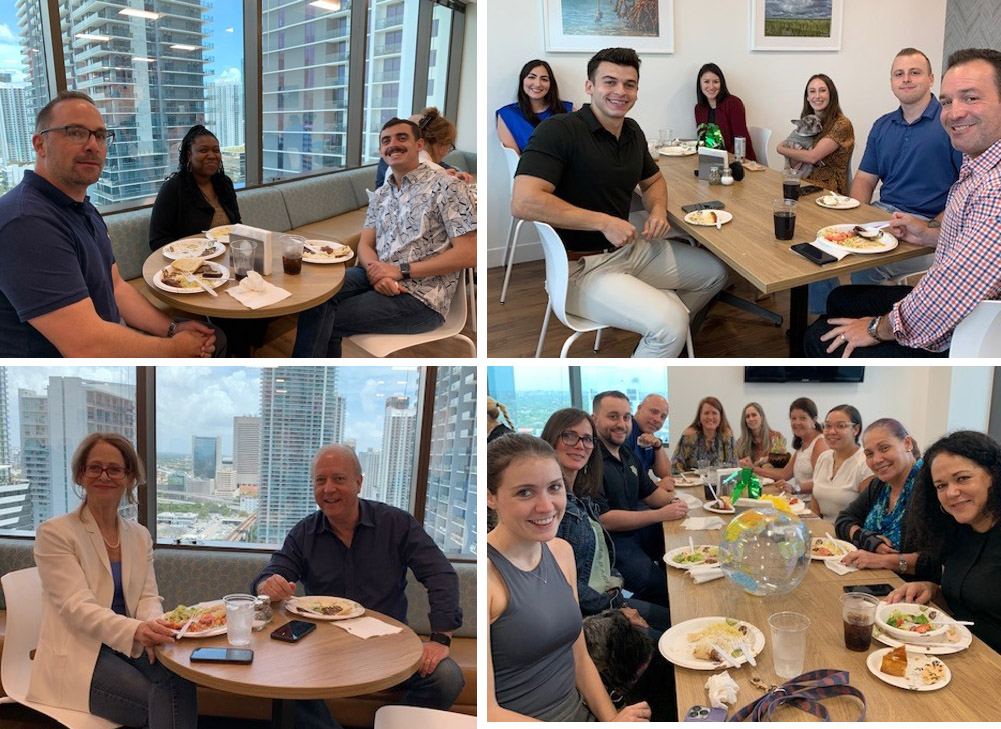 The Tallahassee office enjoyed lunch from Korean restaurant Takko which was recommended by Legal Secretary Aundrea Scott who recommended their sesame fries and Bibim Bop, which is a mixed rice dish with vegetables, fermented sauces and meat. The dish, which harmonizes ingredients, is said to symbolize the balance in Korean culture. In addition, attorneys Jeff Grosholz and Nicole Smith recommended VeneBite, a Venezuelan restaurant. Jeff's mother-in-law lived in Venezuela for a while and she loves to make Venezuelan food when he and his wife visit her.
The Orlando office had a number of restaurants recommended including:
Mark's Jamaican Bar and Grill recommended by Legal Secretary Dai'son Gavins. Dai'son shared that her closest friends in college all happened to be Jamaican and they bonded over food often. Her friends introduced her to a number of dishes that are now some of her favorite foods today.
Pio Pio Peruvian Restaurant recommended by Litigation Support Clerk Victoria Di Santo. Her uncle owns the restaurant and it and it has great food. We agree!
The Great Greek Mediterranean Grill which was recommended for its great reviews.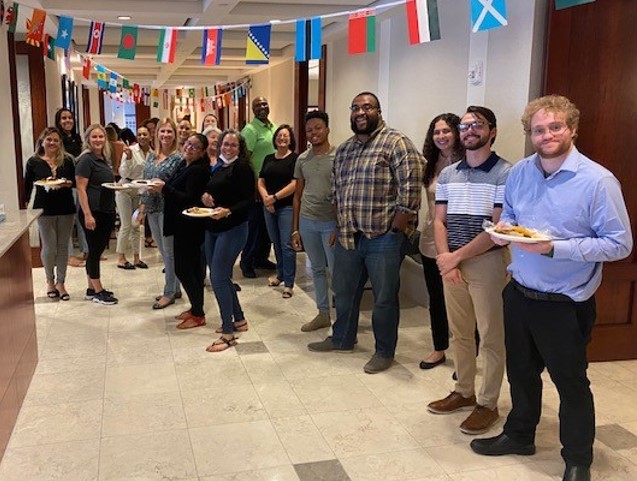 Our annual food festival is a favorite among staff and serves as a delicious way to help people learn about other cultures that surround them, but also promotes an inclusive environment.