Two RumbergerKirk Attorneys Selected for Miami-Dade Bar YLS 40 Under 40 Awards
Two RumbergerKirk Attorneys Selected for Miami-Dade Bar YLS 40 Under 40 Awards
RumbergerKirk Partner Melissa Softness and Associate Erin Weinstock were among 40 honorees for the Miami-Dade Bar Young Lawyers Section (MDB YLS) inaugural 40 Under 40 Awards held on Thursday, February 23, 2023.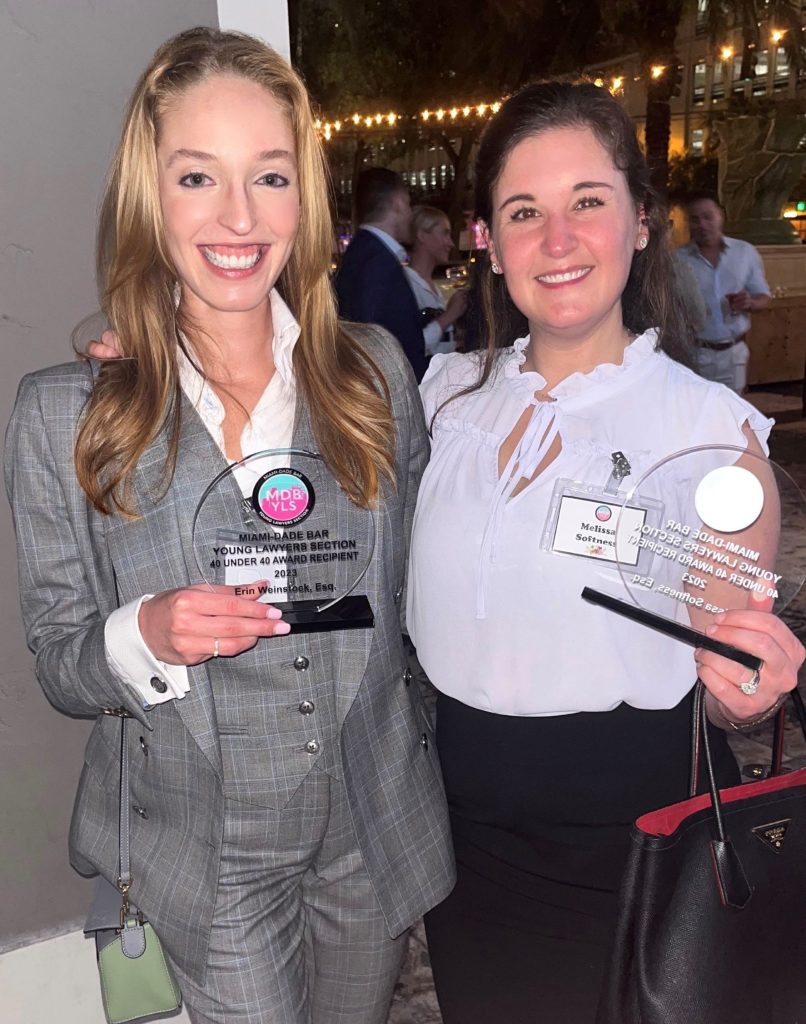 Melissa, who was recently elected partner, was recognized in her nomination for her leadership skills, litigation acumen and a strong desire to mentor young attorneys.
"As someone who has benefited from Melissa's wisdom, I can personally attest that her advice and guidance has fully influenced my personal and professional growth as she continues to hone in on her own," said Erin.
Erin, who was also selected to be honored, received two nominations for the recognition:
"Erin is a tenacious advocate. In her short time as an attorney, she has managed to handle numerous matters with significant client exposure, from pre-suit through trial. Her ability to adapt to unforeseen obstacles, whether it be through discovery or motion practice, sets her apart from her peers," said the first of the two nominations.
The second nomination noted, "Erin is a young, talented, energetic and ambitious attorney who is already starting to make a name for herself as a construction and litigation defense attorney. In addition, she is heavily involved in the MDB YLS and is a rising star even though it is her first year."
""We are thrilled that both of these skilled attorneys have been recognized for their professional expertise by their peers. The future of our profession is in good hands and we are thankful to have them advocating for our clients," said Scott Sarason, administrative partner in the RumbergerKirk Miami office.