Last But Not Least
Last But Not Least
Things slowed down a bit in Week 5. We did not have any seminars or workshops. We were left mostly to our assignments, which kept us busy enough. This was my last week in Orlando before moving to Rumberger's Birmingham Office for the next four weeks. So, my goal was to finish my outstanding (all senses of the word) assignments. Monday, Tuesday, and Wednesday were devoted to this end. Some notable things on those days included: attending Rumberger's multicultural food festival (just what I needed) and watching a video by Bud Kirk about picking a jury.
On Wednesday evening, Kaye Daugherty and several associates took Paris and me to Top Golf. I have not played much golf in my life, and I have not handled a golf club very often. But I still managed to grip it and rip it while at Top Golf. I used a combination of the women's driver, the men's driver, and the men's nine-iron. The ball would often make a wonderful cracking sound as I smashed it with my club and sliced to the right missing all of the targets. I did manage, however, to score points. I even chipped a ball into one high value target, which put me in second place overall for the night. Alas, I was outdone by Brett Carey, my mentor, who felt that my schooling should continue onto the golf course.
On Thursday, it was more of the same. I was frantically trying to complete assignments. It's always hard to get everything done before moving on. Perhaps this a metaphor about the complexity of human affairs and the tremendous difficulty of entering into a new season of one's life. Or maybe it's just a sign that my time management skills still need improvement. Who knows really? In the late afternoon, the Orlando office was gracious enough to hold a happy hour/toast in my honor. They serenaded me with "For He's a Jolly Good Fellow" and for some weird reason "Thank U, Next" by Ariana Grande. I do not know what they were trying to say. (Obviously, I made that up). At the toast, and throughout my last week, everyone was incredibly gracious to and supportive of me. It certainly made it harder to want to leave come Friday. On Friday, I attempted to tie up loose ends. I went to lunch with Kaye Daugherty to discuss my time in Orlando, and I said farewell to the office.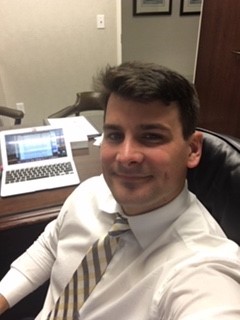 In the late afternoon, I cranked up my car, turned on the radio, and heard a melodic guitar riff followed by a male vocalist say, "Turn it up." He would go on to sing, "Big wheels keep on turning . . . Carry me home to see my kin . . . singing songs about the southland . . . I miss ole 'bammy once again." And with that, it was off to Birmingham, Alabama, my home state. Roll Tide.