Summer's End: Mock Trial Madness
Summer's End: Mock Trial Madness
I cannot believe this summer went by so quickly. These past few weeks, spent mostly gearing up for the Mock Trial Competition, were far and away the busiest and most rewarding two weeks of my (albeit short) professional career. What a rush. As I predicted in last week's blog post, I spent countless hours working on the mock trial competition while managing my regular workflow of assignments.
Week eight was unlike any other week before. While I was always busy every other week, week eight kept me on my toes. I completed various assignments for Miami associates Magali Sanders and Justin Guido—my super mentor—and began developing my case for the mock trial competition.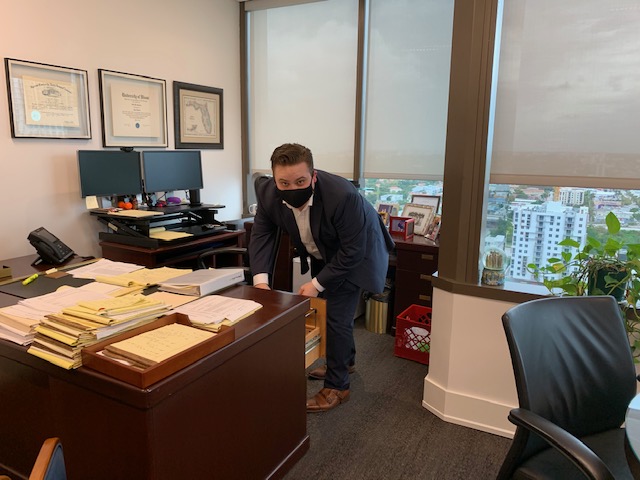 I represented the plaintiff, Mrs. Gabriella Robinson (played by wonderful Orlando associate, Shenele Bright), who sued Flightworthy Aircraft Company (well-represented by Cori) and Rufus Pennington (played by RumbergerKirk's fearless Director of IT and represented by Drew) following her husband's death in a tragic plane accident that should have been avoided but was not because of the defendants' negligence! Whoops. Force of habit! Cori and Drew did such a phenomenal job preparing their cases for trial—each gave Mrs. Robinson and me a run for our money. In fact, Drew won this year's RumbergerKirk Best Advocate Award—and it was easy to see why.
Honestly, I do not remember much of what I said during the trial. All I know is that I was having a blast the whole way through, despite and because Chief Judge (Tampa partner) Rob Blank kept out certain key pieces of evidence at trial. This "mock" trial felt very much like the real thing—even though it was conducted entirely via videoconferencing software. I am happy that Cori, Drew, and I were the pioneers of this virtual format, especially considering that the practice of law will very likely include many more virtual hearings, depositions, and yes, even trials in the near future.
I had spent a great portion of my eighth week preparing this case with Miami partner Josh Lerner; each day at lunch, Josh and I met informally to discuss the case and I would go through potential arguments I wanted to make and he would make suggestions to make my arguments better. Without a single shred of doubt, my favorite part of preparing for this trial was having the opportunity to learn from such a seasoned and well-respected trial attorney (and fellow Law 'Cane!). Thank you, Josh. Thank you for your patience and mentorship—I will never forget the time we spent preparing for this trial. I am in your debt.
I am so thankful for everyone in the RumbergerKirk team who helped me prepare for this trial; right from the start, everyone was so willing and ready to help, and that felt absolutely amazing! A very, very big thank you to Miami Administrative Partner Scott Sarason for having the patience to teach a young, first-generation law student the very basics of trial perpetration and execution (as well as for sharing some of your secrets to success, which I promise never to tell anyone).
Thank you very much to Miami partners Douglas Ede and Abigail Roberts and Miami associates Melissa Softness and Justin Guido for helping me represent Mrs. Robinson to the very best of my abilities. Just a few years ago, I could not have even dreamed about doing what I was able to do at that trial, and I am proud to say that I did it and could not have done so without all of your help.
I also want to thank Blanca Aguilera and Mercy Martinez. Without you two, this summer could not have been as amazing as it was. Thank you both, from the bottom of my heart, thank you.
Now that I've had the time to reflect upon my summer experience at RumbergerKirk, I can confidently say that this will be the summer to remember. I have grown so much as a young professional and as a person, and I am beyond thankful for all the opportunities that I have had; I know I would not have been able to take advantage of those opportunities elsewhere. While I am sad that this is my last week as a Summer Associate at RumbergerKirk, what the skills I have gained over this summer are priceless and will follow me for the rest of my career.