Mock Trial Playlist
Mock Trial Playlist
Well, it all led to this. Weeks of preparation all culminating with the mock trial in the Orlando office. This competition was definitely one of the trickier ones I've done, since we had to prepare both plaintiff and defense cases. It isn't easy to switch your mind from one to the other over the span of a lunch break! That said, I had a blast doing it and I cannot be more grateful to RumbergerKirk for this awesome opportunity. One of the things that initially attracted me to RK was the summer associate mock trial, and it definitely delivered on that promise.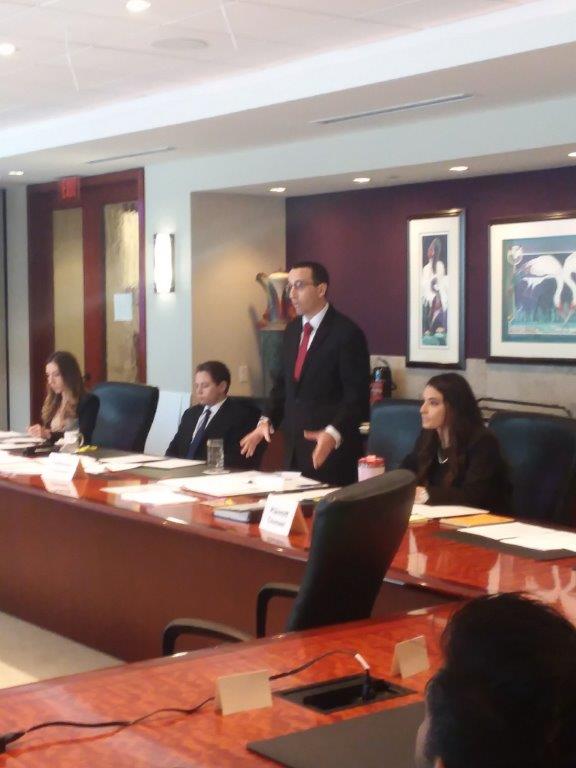 I would also be remiss if I didn't give kudos to my fantastic partner, Jessica. Throughout law school, I've been blessed with mock trial partners that bring out my best and this was no exception. Jessica was consistently well-organized, prepared, and ready to go with awesome case theories and themes. Her best advocate award was richly deserved and I was lucky to have her as a co-counsel. Also, a hearty thanks to our coaches, Meredith Fee and David Marsey. Even as a summer associate, I recognize how much time and effort trial preparation takes—even for a mock trial—so I can only imagine the extra effort this placed on our coaches, who have full caseloads to deal with. And yet, they both knew the packet inside and out, were willing to sacrifice hours out of their days to practice, and Meredith even drove over to Orlando to help coach us during the actual mock trial itself.
The morning of trial is always a fun time for me. My ritual is largely the same: I drink some coffee, eat a light breakfast (usually some fruit and toast), and then make sure to listen to my mock trial playlist. And since I'm sure y'all are just dying to know what music I like, here you go. It primarily consists of songs from the musical Hamilton, specifically "Guns and Ships" (because while I'd like to say I chose my dog's name, Lafayette, due to the real Marquis de Lafayette being one of the most fascinating historical figures of all time, the primary motivation is actually because of my undying love of the character as portrayed in Hamilton). I also listen to a lot of rock and rap I liked when I was a teenager (and therefore refuse to name because of how embarrassingly dated it is now), "Bad Reputation" by Joan Jett, some Queen, some Prince, "You'll Never Walk Alone" by Gerry & the Pacemakers (Liverpool football forever), and "The Final Countdown" (Arrested Development fans know why). There're also a lot of Disney songs thrown in there because growing up in Brevard meant I was lucky enough to spend virtually every weekend at Disney and I have zero shame about being a dude who loves Disney.
And here is where "My Way" by Frank Sinatra begins playing, because now the end is truly near. It is very surreal to think that ten weeks have gone by since I started with RK. This summer really has been everything I thought it would be and then some. I learned more about Florida's statutes than I ever imagined I would, specifically our education laws. I got to help on a disparate impact case, which was both the most challenging and rewarding assignment of my legal career so far. I got to sit in on multiple depositions and was then asked for my opinion and suggestions during those depositions. And then I got to see the lawyer running the deposition actually use my suggested questions! I not only learned more about trial advocacy but was then given the chance to actually apply those tools during the mock trial. I am beyond grateful to the opportunities RK has given me and am so appreciative of everyone at the firm, especially those in the Tallahassee office. I can only hope my efforts matched the kindness I was shown. Thank you all.