Family Man, Attorney and Hockey Player: Jacey Kaps Talks about the Importance of Trust, Teamwork and Goals in his Work and Life
Family Man, Attorney and Hockey Player: Jacey Kaps Talks about the Importance of Trust, Teamwork and Goals in his Work and Life
Jacey Kaps and his team have built their practice in the retail and hospitality sectors representing clients in commercial and transactional disputes, labor and employment matters, construction disputes, intellectual property litigation, Medicare compliance, and casualty litigation. In addition, he and his team help clients avoid litigation by building their litigation and risk management programs.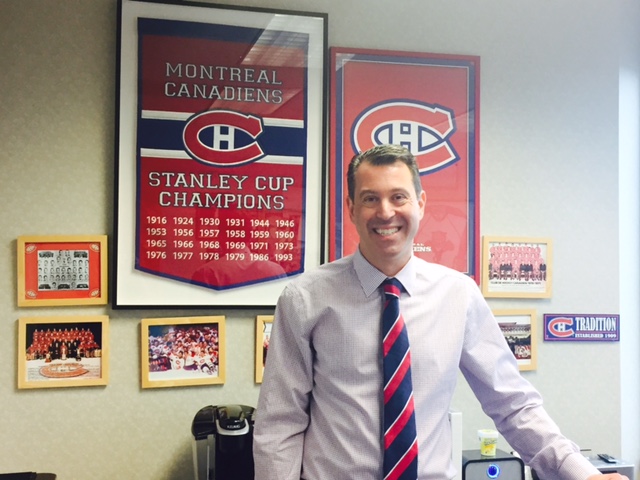 A native of Montreal, Canada, Jacey is an avid hockey fan and player. While hockey ranks third among Jacey's passions behind his family and his work, it's easy to see how many of the building blocks that make a hockey team successful are the same techniques he uses in building a successful practice: trust, teamwork and goals.
"Being transparent and earning the clients' trust is paramount," said Jacey. "First and foremost, we focus on understanding the client's culture, business and goals. Litigation is a business problem for our client and we work very hard to quickly resolve whatever business problems may arise," he explained. "While saving money for the client overall is the mantra for every case that walks through the door, we never sacrifice precision for speed—we put an emphasis on both."
Jacey describes the importance of forging personal bonds with clients. Being focused on the client and interested in the issues they face means not only being responsive when clients call, but making the effort to reach out and confer with clients regularly in order to understand what's happening in their world. "We are 100 percent interested in them at all times which goes a long way in earning trust," said Jacey. "Being transparent and sharing the big picture of what we plan to do and then executing on that plan is another way we earn and keep our clients' trust," he continued. "In the end, getting great substantive results and limiting expense and/or exposure further strengthens our relationships."
It's clear in talking with Jacey that he truly enjoys working with clients. "One of my favorite parts of coming to work is partnering with clients to achieve their goals. I love the opportunity to strategize and work through big problems and figure out how we are going to reach the client's goal as quickly as possible," he said.
One of the most important factors in successfully meeting client needs and earning trust is having the right team to do the work. Jacey emphasizes that the team approach enables RK to work most efficiently. "We have an amazing team of really smart people that work great together," said Jacey. Similar to a very deep roster of skilled athletes, he says that part of the efficiency is putting the right person on an issue. "Instead of having to bring someone up to speed, we tap the attorneys that have experience dealing with the issue at hand," he said. And, like any great sports team, RK has a lot of talent from which to choose.
According to Jacey, having such a strong team allows him to focus on the bigger picture of his clients. "I oversee and manage all of the cases and overall strategy, but I am able to tap anyone in the firm whenever an issue arises. While I work with the team to develop the strategic approach, once it's determined everyone follows it and handles the day to day actions. Because we all work well together and work from the same playbook, we are precise and fast."
Part of this efficiency really allows Jacey and his team to sit down and strategize through a case, to look at the big picture and determine client strategy. "Over the holidays, I was reflecting about my work and some of the best days were the ones when the team came together to talk strategy and kick around ideas."
Being able to have this strong team enables Jacey to oversee a wide volume of litigation for his clients as well as focus on developing and mentoring the team. "While we don't have many new attorneys working in the retail and hospitality sector, we often have lawyers transitioning to our area from other aspects of the law, so they are becoming more familiar with our type of work, what it is and how we do it," explained Jacey. "My approach is two-fold. At first, there is a lot of personal mentoring where I'm going to depositions, hearings, mediations, etc. I believe you give them what they need to flourish and then get out of the way."
The second part is allowing the group to self-mentor. "Because the team is filled with a wide variety of skilled, experienced attorneys, someone from the group will step into that leadership role and mentor spontaneously when needed," he said.
Jacey says that that everyone needs different things and different levels of assistance. "We all have different strengths and weaknesses. The key is knowing what they are so you play to your strengths and work on the weaknesses. Wherever possible, I surround myself with those who have strengths I don't have," he added. "And I do the same for the team."
Jacey referred to the business book, Good to Great by Jim Collins. "It's important that you get the wrong people off the bus and the right people on the bus. Once you have the right people, you can decide where to steer the bus. We have many lawyers with many skill sets and depending on the need of the situation, we have the right people to put on the bus and go. Whether I need a pit bull or a former plaintiff lawyer who can work a deal, an employment specialist or and insurance specialist, I'm able to put the right person on the case."
Having a strong team is important, but knowing what the goals are and what direction to go helps the team stay focused. "In addition to working toward our client goals and strategy, we also developed our own strategy as a group. Each day we are committed to executing on those goals and objectives to make them a reality, just as we are for our clients' goals."
This focus on client results and having a strong team unified and working toward common goals has led to much success and many honors. Jacey noted a couple of examples such as serving as regional and national counsel for a retail client as well as national catastrophic case counsel for a casual dining client. He also pointed to recognition of team successes such as being named as Sears Holding Corporation's "Go-To Firm for litigation" for three consecutive years and receipt of the Chairman's Award from the Florida Retail Federation for dedication to Florida's Retailers.
"The best compliment we receive is that most of our new clients come from referrals or former clients who left their companies and hire us once they start at their new companies," said Jacey. "I recently had a client tell me, 'you folks just make my job easy.' We want long-term relationships with our clients and we want to be part of their team," he noted.
When talking to Jacey it's easy to hear how much he enjoys working in the retail and hospitality sector. "When I first came out of law school, I started working in the industry. It made sense to me as I understood it well and grew up putting myself through school working in retail," explained Jacey. "It also made a lot of sense because this sector drives the economy. It is Florida's number one industry by a country mile. There is so much included in this sector, from casinos, theme parks, and outlet stores—so many great industries," he continued.
Not only does Jacey truly enjoy the industry, but it's clear he is passionate about every aspect of his work. Whether working with clients, team members or colleagues across the industry, Jacey builds strong relationships, not because it makes business sense or he has to, but because he enjoys it so very much. He is always on top of what's happening in the industry and stays on the forefront of what's happening from legislation in Tallahassee to building contacts with industry colleagues to benchmark and share best practices. "I'm very data driven and find myself involved in a number of associations and organizations and is always tracking information and keeping an eye on what's happening."
He also is passionate about hockey and fitness. Behind his desk, you'll find a large collection of memorabilia for his favorite hockey team, the Montreal Canadiens. Jacey attends hockey games whenever and wherever he can—whether watching professional hockey games to watching kids play. And, despite living in South Florida, he carries around his hockey gear whenever possible so he can squeeze in a game wherever he might be. "I try and stay in the best shape I can and focus on conditioning and physical fitness, so that even at 48 I can still play," he said.
While work and hockey are huge passions him, front and center in Jacey's life is his family including his wife of 17 years and their son and daughter. "While I have my hockey memorabilia behind me, my desk at the center, I have a wall of photos in front of me, so I am always facing my family," he explained. "While my daughter doesn't care at all about sports, my son loves soccer and hockey. Soccer first, despite my attempts to reorganize his priorities. He loves going to Panthers games with me and is definitely my sports buddy. Unfortunately, my son is severely asthmatic. It's extremely limiting so he cannot play at all. If he could play, he says he'd want to be a goalie, which doesn't seem at all like fun to me!"
Jacey noted that while his son cannot play sports, he puts his competitive energy into academics and maintains an extremely positive attitude. "He's so positive about his condition and life that I can't help but hope I'm half the man he is when I grow up."