LaShawnda Jackson to Serve as President of the Virgil Hawkins Florida Chapter National Bar Association
LaShawnda Jackson to Serve as President of the Virgil Hawkins Florida Chapter National Bar Association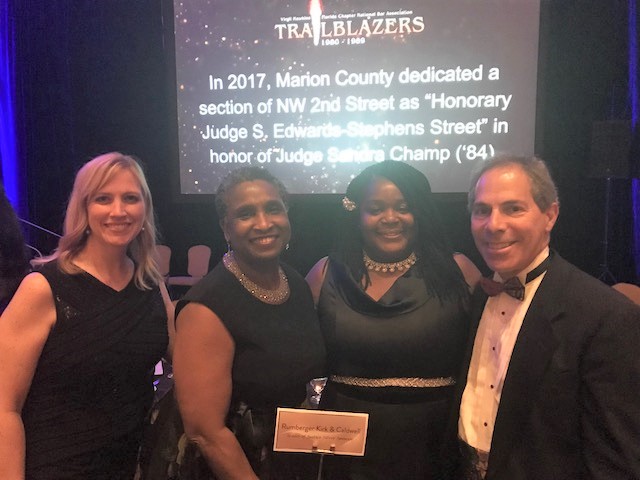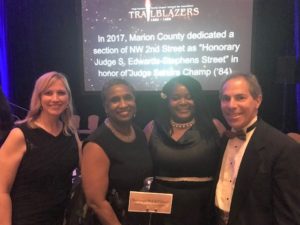 Above: Sally Culley, Linda Bond Edwards, LaShawnda Jackson and
Richard Greenberg at the Legacy Gala
LaShawnda Jackson became president of the Virgil Hawkins Florida Chapter National Bar Association (VHFCNBA) at the Legacy Gala on Saturday, June 16, 2018. As president, Jackson will help the organization meet its goal of improving internal/administrative processes and to reconnect with the organization's 13 affiliate chapters.
"The goal is to help make VHFCNBA bigger, better and bolder," said Jackson. "We wish to attract new members and retain those who have been strong supporters of the organization for years."
As president, Jackson also serves a dual role as National Bar Association (NBA) Region XI Director. VHFCNBA will host NBA-affiliate chapters from Georgia and Alabama for an NBA Region XI Meeting in Florida next spring. The Region XI meeting will showcase meetings and CLEs for attorneys, networking opportunities for law students and a written and oratorical competition for high school students.
Jackson first became a member of the National Bar Association in 2005 and became active with the VHFCNBA shortly after. She joined the VHFCNBA board in 2016 and agreed to serve as President because she felt her leadership experience on other boards would be an asset to the organization.
About the Trailblazer Legacy Gala
The Trailblazer Legacy Gala was held to honor African American lawyers admitted into The Florida Bar from 1980-1989. Volume II of Florida's First Black Lawyers was also unveiled. More than 400 attendees enjoyed the video production honoring Trailblazers who were Champions of Justice, Public Servants, Firm and Corporate Leaders, Self-Starters, Law Makers and Educators. Volume I and Volume II have been submitted for inclusion at the Museum of African American History and Culture. RumbergerKirk was a silver sponsor for the event and Linda Bond Edwards served on the Trailblazer Gala Steering Committee and chaired the Underwriting Committee.
For more information about VHFCNBA visit www.vhfcnba.org.