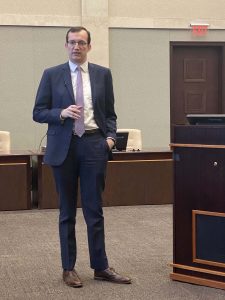 This blog post will recount my ninth week at RumbergerKirk and will reflect on my final days during my tenth and final week at the firm. This week was a conundrum. On the one hand, the monumental amount of effort I put into preparing for the mock trial meant that I valued each and every minute I had. In turn, this led to days feeling extremely long. But, when I look back at these last two weeks, the time flew by.
In these last two weeks, I was put to the test in preparing for the mock trial that RumbergerKirk hosts every year for the summer associates. Thankfully, the firm's attorneys understand the demand the mock trial has on the schedule, and work lightened up accordingly. This repose allowed me to focus almost entirely on the mock trial. While the packet may have only been around seventy pages, the preparation for the mock trial was immense.
This year, we competed on our own, which meant that every summer associate would perform from start to finish in their trial. So, I needed to prepare an opening statement, direct examination, cross-examination, and a closing argument. As you can imagine, this translated into a significant amount of work. However, the most significant challenge revolved around the fact that I have not taken evidence yet, so I needed to wrap my head around the trial "playbook" to be truly prepared for the mock trial.
On mock trial day, I was ready to be the best advocate possible for my "client." While the preparation was long and tedious, it paid off in droves as I was prepared for anything by the time the trial rolled around. I was proud at every trial step, and I even succeeded in many of my evidentiary arguments.
Reflecting on the mock trial, I can't help but think of my time at RumbergerKirk in parallel. Through the mock trial and the summer associate program, I have been exposed to an incredible amount of work. This work, in turn, has provided me with a wealth of experiences that have colored my views on the world of litigation. In just ten weeks, I feel like I've learned years' worth of information.
I will miss the hustle and bustle of the RumbergerKirk office as I return to Tallahassee for my final year of law school. The staff, associates, and partners of this firm are wonderful and have enriched my summer to a degree I would have never imagined. I am so incredibly thankful for everyone who made my summer the fantastic experience it was.