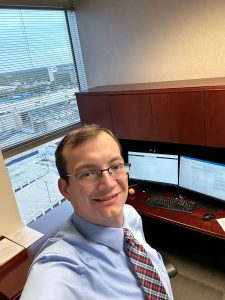 As always, this week was filled with an incredible variety of projects and assignments from partners and associates throughout the Orlando office. I was particularly excited to work on some corporate-derived work. This included breach of contract claims in one case and a civil theft claim in another. These cases introduced me to areas where I haven't had the opportunity to work to any significant degree since the start of summer.
While working in new areas of the law, I also moved to a different office this week due to the upcoming renovations in the Orlando office that will fundamentally change the layout of the office. This has led to a situation somewhat akin to musical chairs, where various attorneys and staff are shuffled around to facilitate the construction.
I had the good fortune of ending up in an office that shares the same sweet views as my old office. At this point, I am reminded of how thankful I am that Rumberger provides individual offices to each of their summer associates–even in the midst of a major renovation.
Finally, I enjoyed the 4th of July this year and watched the fireworks over Lake Eola. Independence Day in the middle of the week, while not ideal, did provide an excellent alternative to what would have been just another Tuesday.