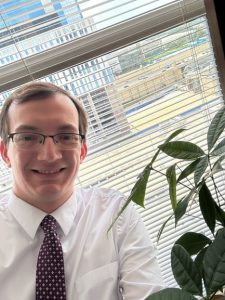 My time as a Summer Associate has finally begun! I kicked off my summer experience at RumbergerKirk on Tuesday, May 30th, and I couldn't be more excited. While the week started with the typical onboarding and orientation work, by the end of the week, I had completed multiple assignments for both associates and partners in the firm.
Before diving into some of the work I've done, I must say that I had a fantastic time meeting my fellow summer associates during our orientation. Before the other summer associates left for their respective offices, we celebrated the start of our program with a firm happy hour and dinner at The Hall on the Yard in nearby Ivanhoe. It was during this dinner, that I started to make some personal connections with both associates of the firm as well as the other summers.
By Thursday, I had two research assignments. The first assignment focused on trademark infringement, while the second assignment revolved around setting aside a default judgment. These assignments were manageable and allowed me to gain experience doing legal work for a client. This was very exciting as this is the first time I've done work for a paying client, and it was only my third day on the job!
On Friday, the highlight of the day was attending the opening statements from partner Steve Klein's trial. It was thrilling to be in a courtroom, witnessing a live trial, so soon into my summer associate experience. In the evening, we celebrated the start of the 2023 Summer Associate Program with a office-wide happy hour.
The week's final event was on Saturday when associate Sara Kallop hosted the firm's associates to a party at her house. This was a wonderful event and I appreciated connecting with so many associates in a more casual setting. Sara even made birthday cupcakes as the party happened to fall on my birthday!
Overall, RumbergerKirk has done an amazing job introducing me to the firm and making me feel at home here. I cannot wait to see what else this summer has in store for me!