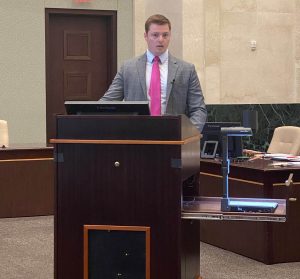 The last week of the program went by the fastest. By the middle of last week, we were completely focused on preparing for the mock trial. We met with our mentors and some of the other attorneys in the Orlando office to strategize and discuss our plan for the trial.
On Sunday, we met up with all of the other summer associates at the office so we could practice with the other summers on our side. I was defense, so Katherine, Nick, and I practiced our openings, closings, direct, and cross examinations with each other.
At 9:00 a.m. on Monday morning, Keyondra and I entered the courtroom and off we went. It was overwhelming at first being in the ceremonial courtroom on the 23rd floor of the Orange County Courthouse—the same one they used for the Casey Anthony trial. The mock trial went by so fast! Before we knew it, we were celebrating with most of the Orlando office at AC Sky Bar. After that, we went to dinner at the Pinery with attorneys Patrick Delaney, Sara Kallop, Rob Blank, and Sally Culley. The Pinery was wonderful. It was such a great opportunity to decompress after the trial and talk with everyone else who was there.
As the middle of this final week approaches, I still have a couple of assignments to wrap up. The whole summer feels like it's flown by. Going to Tampa in June feels like it was just last week. It's been a wonderful experience getting to know everyone at the Orlando office and having the opportunity to work on so many different assignments. I'm sad to be wrapping up my final assignments this week, but I'm sad because I will miss my time here and the people I've gotten to know—and I'm grateful to have had such a wonderful time that I have something to miss at the end of it all.