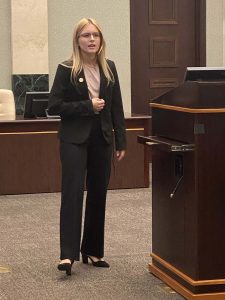 The long-awaited Mock Trial competition finally arrived and the pressure was on. I had been waiting for this day all summer and I was so excited to get the chance to do basically an entire trial by myself! As daunting as that sounds, it was one of the best parts of this summer. Even though the week before trial was a little hectic, I know all of us were able to get a lot of work done while we were prepping our own cases. Throughout the week I had people around the Tampa office help me fine tune my arguments and time out my entire case. Having the time for feedback really helped me enhance my case as I continued to draft up until the last possible second.
On Sunday morning, all of us headed to the Orlando office where we got to spend some time with the other summer associates on our side of the case. Tom, Keyondra and I were on the Plaintiff side so we had the chance to strategize and give each other feedback before trial. Even though we all were technically "competing" against each other, it was fun to talk things out and hear what ideas we all had for different evidentiary issues or themes.
The next morning, we were off to the courtroom! Despite practicing the entire week prior, my nerves shot up as soon as we entered that courtroom. Not only was it huge, but it was the same courtroom that the Casey Anthony trial took place, which made things intense. Even though we arrived bright and early at 8 a.m., Katherine and I weren't scheduled to go until 2 p.m. As we waited for everyone else to finish their trials, we became more and more anxious. But after lunch, it was finally our turn… and it was a battle. Katherine was amazing! I truly hope to have the chance to work with her again, just maybe next time together instead of on opposite sides.
After our trial wrapped up, we got tons of feedback and then we headed straight to happy hour at a place called AC Sky Bar. We all had time to relax and catch up with everyone before they announced the winners of the summer associate writing competition and the best advocate from trial. Surprised was an understatement when I was announced as the Best Advocate! Everyone was so amazing and worked so hard, that it was really an honor to get the award. Without the help from everyone in Tampa, I could have never done what I did. The best part though, was that Katherine received the best motion award for the writing competition… talk about GIRL POWER!
Afterwards, we went to dinner to celebrate at the Pinery and kept the party going just a little longer at Thrive before saying our farewells to all of the summer associates. On Tuesday morning, I headed back to Tampa. With a few more assignments to finish, my time here is coming to a close. I cannot thank everyone enough for the kindness and patience you all have showed me this summer. I truly am thankful for this experience!