The moment we've all been preparing for is finally here! The mock trial competition was this week!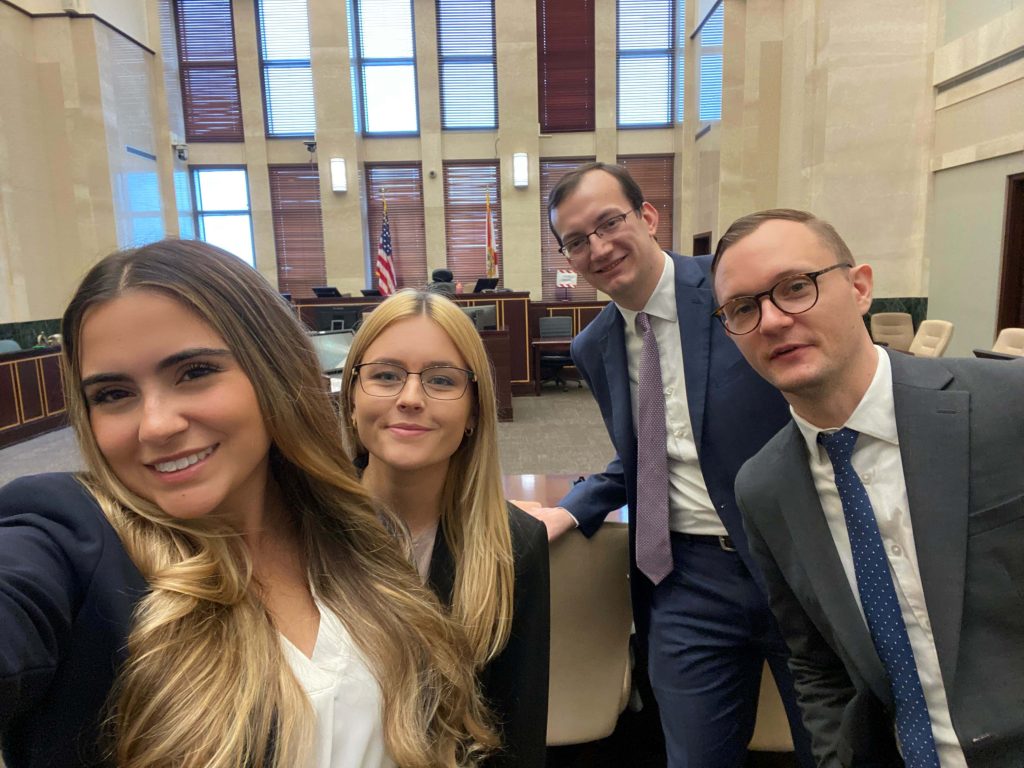 Last week was a loop of practicing and revising our mock trial materials. We focused on developing our arguments further and honing in on our important facts. Our mock trial practices are something I will really miss. We had such a blast going over different parts of the trial, and getting advice and feedback from such amazing, talented, and experienced trial attorneys.
I also had some work to do this week. I had the opportunity to write a motion to dismiss in a construction case which was very interesting, and I had a few research assignments.
On Tuesday, we had our Multicultural Food Festival, where we tried cuisine from all over the world. We had Mediterranean, Mexican, and Chinese food. Everything was so delicious and we had a great time. We also went to lunch on Friday with partners Josh Lerner and Mike Holt where we learned about their most interesting cases and their experiences at RumbergerKirk.
Then, on Sunday, we caught a flight to Orlando to begin the mock trial process. We got to the Orlando office around 11:00 A.M., and met with the summer associates on our respective sides to discuss our strategies and practice. We had lunch at the office and then broke for the day. Then, instead of putting the mock trial stuff away for the day and getting our minds off of it, we all went back to our hotel rooms and kept working. At that point, I felt like the characters in the mock trial were real people, and that we had real clients to represent, and I wanted to make sure everything was in order for the big day. Later that night, around 10:00 P.M., the other summer associates and I found ourselves in our pajamas in the printing room of the hotel, adding last-minute touches to our trial binders.
Monday morning, we woke up and went straight to the Orange County Courthouse, which is where the mock trial would be held this year. We were actually in the same courtroom as the Casey Anthony trial. The courtroom was impressive and slightly intimidating as it was huge and had a two-story gallery. My trial was last, so I spent the day practicing in a separate room until it was my turn. Then, before I knew it, I was sitting at the defense counsel table about to give my opening statement. The actual mock trial was an absolute blast. After the first few minutes, the nerves were completely gone and we were doing our direct and cross-examinations with live witnesses. Then, we delivered our closing arguments and it was all over. We received such great feedback from the attorneys who watched us, and then headed off to happy hour.
At the happy hour, it was announced that I won the writing competition for best motion and Renee Duffy won best advocate! We were given a little present to commemorate our summer as summer associates, but I won't ruin the surprise for others by telling what it was. We had an amazing time at happy hour catching up with the attorneys from the Orlando office and celebrating that we had completed the mock trial. Then, we enjoyed a delicious dinner at The Pinery. After dinner, we weren't done celebrating, so a few of us went to a bar by our hotel to keep hanging out. The next morning we caught our flight home.
I can't believe we are on the other side of the mock trial already! Now, we will finish up our last few days here at RumbergerKirk and return to school. I'm not sure why I have to go back to school if I have already done a whole trial by myself (just kidding, I still have lots to learn!).
Overall, I have had a wonderful summer and I have learned so much. The amount of effort that goes into the summer associate program at RumbergerKirk and the firmwide mentorship focus has helped me develop professionally in a way I didn't know was possible. Thanks for following along!