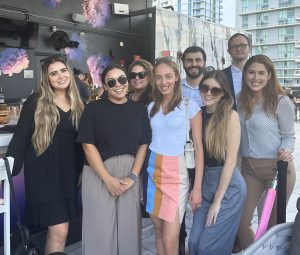 Writing my blog this morning, I find it hard to believe that we are already on week 7! Every week that has gone by has come with its own lessons and thrills, and week 7 was no exception. Throughout the week, I researched interesting issues, continued drafting my article on Florida's tort reform, and attended a hearing. The hearing I attended ended up turning into my longest writing assignment yet, a motion to compel, which was very fun to write.
We also had interesting meetings and presentations during week 7, including an Associate College presentation on admitting evidence, and a meeting with Paul Lipton, our Director of Professionalism, Career and Skill Development, on soft power. The Associate College presentation on admitting evidence was extremely helpful because it covered the specific language and steps you should take to admit evidence during a trial. Our meeting with Paul Lipton on soft power was also very helpful, as we discussed effective ways of negotiating and persuading that preserve long-term relationships and allow for better communication.
On Thursday, Karen Garcia (the firm's Director of Human Resources and Legal Recruitment), came to visit the Miami office. We had not seen Karen since we went to Tampa for our opening and closing workshop, so it was nice to catch up. After work, Karen treated the associates and summer associates to happy hour at Rosa Sky and we had an amazing time.
Last but not least, the summer associates had a meeting with partner Patrick Delaney to discuss the mock trial and we were given a big surprise. This year, the summer associates will not conduct the mock trial in teams, but rather each summer will represent their side on their own. The thought of conducting a whole trial alone is terrifying, but we start practicing next week and hopefully feeling prepared will make me less nervous.