This week consisted of research, a live depo, Coffee with the Court, a direct- and cross-examination seminar, and a motion practice workshop.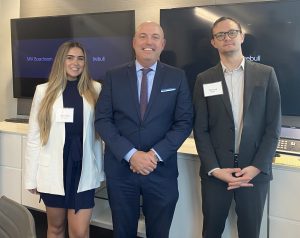 On Monday, I did research for four different cases, which taught me how difficult it can be to have multiple cases at once. On Tuesday, I had the opportunity to watch a live deposition. The deposition took place at the RumbergerKirk office. Court reporters, a videographer, the plaintiff, and the plaintiff's counsel all attended. As so many depositions take place remotely now, it was such a cool experience to see how an in-person deposition differs from one conducted over Zoom.
On Wednesday, RumbergerKirk hosted the Miami-Dade Bar Association Young Lawyers Section's Coffee with the Court event. Judge Thomas Rebull, from the Eleventh Judicial Circuit of Florida in Miami-Dade County, spoke to us about professionalism, effective practices in the courtroom and on Zoom (and some not-so-effective ones), and advice for young lawyers. It was a great experience overall, and an honor to spend time with Judge Rebull.
On Thursday, we had the attorneys' luncheon followed by the seminar on direct and cross-examinations, given by partner Scott Sarason. We watched short clips from the movie "My Cousin Vinny" and learned the essential differences between conducting direct- and cross-examinations.
On Friday, we had our motion practice workshop and each summer associate argued a motion as we would in court. It was great practice and we received helpful feedback afterward. At this rate, we will be full-fledged trial attorneys come August!