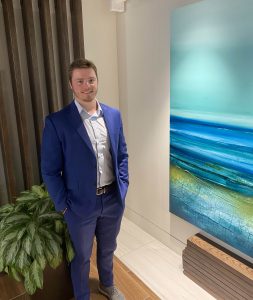 This week featured a couple of happy hours and lunches which was a great opportunity to get to know partners and associates in a different setting. First up, was happy hour at Solitas for 'Taco Tuesday.' The tacos and margaritas were delicious and it was fun to see and talk with all of the partners and associates outside of the office.
On Wednesday morning, I joined associate Samendio Mathieu for a deposition of a witness in a case he is trying. It was really interesting to watch Samendio go through his deposition outline in person and see how the witness responded. Afterwards, we grabbed lunch and talked about how the deposition went and how it might affect the case.
Later that afternoon, Nick and I went to Thrive Social for a happy hour with Samendio, partners Skip Eubanks and Steve Klein, associates Reggie Guillaume and Georgeta Aguiar and Joe Mule, RK's COO. We enjoyed a variety of gourmet sliders and wings, which were amazing along with great conversation.
On Thursday, Nick and I went to lunch with partner LaShawnda Jackson and associate Katie Chomin for yet more delicious food. LaShawnda told us about one of the firm's larger clients and how we came to represent the client originally, and why we've had such a good and continued professional relationship with them for many years. Afterwards, we had a seminar on direct and cross examination. This seminar was my favorite one we've had so far and I look forward to practicing direct and cross examination at the workshop next week.
On Friday, we had a workshop on presenting a Daubert motion. I was assigned to the Plaintiff side and received really positive feedback for how I presented my motion afterwards.