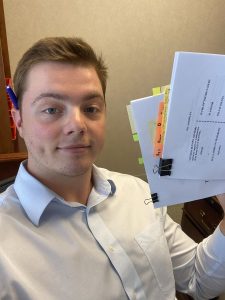 This week, we shifted into preparation for the mock trial. Nick and I, who are both assigned to the defense side, met with associates Graham Marcus and Meghan Kennedy on Wednesday to go over our general questions about the whole process. We then met with associate Devin Topper on Thursday and Friday after work to discuss evidence and how and when to object during the trial. All three practice sessions were very helpful, but there is still plenty of preparation to do.
On Tuesday, I had a delicious lunch with my mentor, associate Sara Kallop, at Artisan's Table. It was a nice opportunity to talk about the firm's growing commercial and transactional practices as well as the upcoming mock trial.
In the midst of all of the mock trial preparation, I've had some interesting assignments. Of Counsel Brad Davis asked me to help him with an IRS tax controversy for one of our long-term clients. I was very excited to be assigned to this case because it fits perfectly into what my interests. I also received an assignment from administrative partner Sally Cully regarding the Fair Labor Standards Act and the proposed rules that become enacted in August.
On Thursday, Nick and I had lunch with partner Charlie Mitchell. We had a great time. Charlie told us a lot about the commercial and warranty practice at the firm and it was really interesting to hear about some of the cases he has been working on recently.