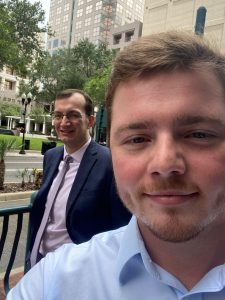 At the beginning of the week, we had a meeting with all of the summer associates and Karen Garcia, RumbergerKirk's director of human resources and legal recruiting, to check in and ask questions. The meeting was a great way to share with each other how we've been doing and share our progress with the other summer associates.
Most of this week centered around preparing for the opening and closing workshop at the Tampa office and working on a motion in limine—Daubert motion for the summer associate writing competition. Seeing the Tampa office was a wonderful time. The office has incredible views of the entire bay. The opening and closing statement workshop was a unique experience and the feedback I received was very helpful. All of the Tampa attorneys who watched gave thoughtful and thorough advice. After the workshop, we had lunch at the Columbia Restaurant—a beautiful Cuban restaurant in an historic neighborhood with delicious food.
I also spent time this week working on a research memo for partner Chase Hattaway on inverse condemnation and when an expert's opinion may be compelled. I've learned a lot from researching that issue so far, especially since the last exposure to eminent domain I had was during my 1L property class. I am looking forward to next week because I received multiple interesting assignments due in the coming days. They include a memorandum of law for Bradley Davis, of counsel, on an estate planning case with a pretermitted spouse who was not included in a will, a research project for Frank Sheppard, the firm's managing partner, on consortium, a motion to deem admitted for associate Sara Kallop, and helping associate Samendio Mathieu with preparing interrogatories for one of his cases.