At the beginning of the week, we learned the ins and outs of taking a deposition. Then, on Friday, we each took the deposition of a mock witness! It was great to put our knowledge to the test and experience what taking a deposition is like. It was a busy week for the Summer Associate Program as our writing competition was released this week as well.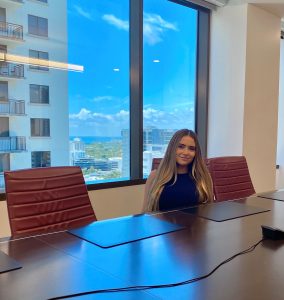 Although the summer associate program provides invaluable experience, the opportunity to work on real cases during week two was so inspiring! On Wednesday, Thomas and I had the opportunity to sit in on a deposition that partner Scott Sarason took of a plaintiff and her husband. The case was so interesting and it was an amazing opportunity to learn from such a knowledgeable and experienced attorney. I was also given research assignments for active cases and learned that it is much more fun to find an answer for a real client than for a law school hypothetical!
We attended the weekly attorney luncheon on Thursday where we ate Pollo Tropical (a Miami favorite) and watched associate Nick Aguirre brief cases. After work, we went to happy hour with a few associates and I tried an oyster for the first time!
On Friday, partner Josh Lerner invited us to join his roundtable conversation with partners Scott Sarason and Bob Fitzsimmons about Josh's upcoming trial. We were briefed on the case and able to offer our thoughts and opinions, which is just one example of how much summer associates are incorporated and valued at RumbergerKirk
I would be at a loss if I had to pick a favorite moment from week two!